Monk with JCP fliers ruled not trespassing
By AKEMI NAKAMURA, The Japan Times, Aug. 29, 2006
Handing out political matter OK: court
Tokyo, Japan -- The Tokyo District Court acquitted a Buddhist monk Monday on charges of trespassing at a housing complex in Katsushika Ward, Tokyo, while distributing fliers for the Japanese Communist Party in December 2004.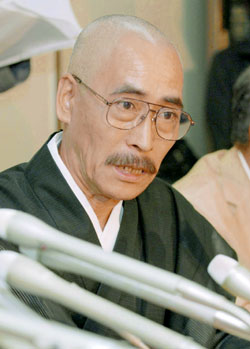 << News photo
Buddhist Monk Yosei Arakawa speaks to reporters Monday after he was acquitted by the Tokyo District Court of trespassing charges. KYODO PHOTOS
"It was tremendous torture that I was detained for 23 days and had to go through this trial for 1 1/2 years," Yosei Arakawa said at a news conference after the ruling. "I'm delighted (with the ruling) because it may stop (police) suppression of free speech."
Presiding Judge Takaaki Oshima said distributing political leaflets in the building was not illegal because such acts have long been considered socially acceptable.
Prosecutors had asked that Arakawa be fined 100,000 yen for trespassing.
According to the court, Arakawa entered the seven-story condominium complex Dec. 23, 2004, to distribute fliers that contained reports and questionnaires from the JCP members of the Tokyo Metropolitan Assembly.
A resident on the third floor told Arakawa to stop putting leaflets into mailboxes and called police.
Arakawa was arrested on the spot on suspicion of trespassing.
Oshima said Arakawa did not enter the building to commit a crime or engage in other harmful activities, and added that distributing the fliers caused little if any disruption or danger to residents' daily lives or privacy.
"Each building can decide (who can enter) and (should) show (signs) clearly so visitors can notice. If visitors ignore such warnings and enter the building, it would be trespassing," he said.
In this case, the building had signs at the entrance banning the distribution of leaflets without permission, but the signs referred to commercial fliers and those deemed harmful, and did not mention political leaflets, the judge said.
One of Arakawa's lawyers, Osuke Nakamura, said the ruling is an important check on police and prosecutors, who in recent years have sought to curb freedom of expression by arresting people who distribute political fliers.
In one recent case, three peace activists were arrested in 2004 for trespassing while posting antiwar leaflets at a Self-Defense Forces housing compound in Tachikawa, western Tokyo. They were fined between 100,000 yen and 200,000 yen by the Tokyo High Court in 2005.
In another case, a Social Insurance Agency official who distributed JCP newspapers was fined 100,000 yen in June by the Tokyo District Court, which found that the official had violated the National Civil Service Law limiting public servants from engaging in political activities. The fine was suspended.
"(Today's) not-guilty verdict is a quite natural conclusion because commercial businesses distribute various leaflets every day in condo complexes," Nakamura said.
"Residents have the freedom to throw away fliers that they don't want, and should tell distributors not to post anything in their mailboxes."
Although Arakawa said he will continue to pass out political fliers, as he has done for 40 years, he added that he realizes it is necessary to think about how they are distributed because people have become more concerned about the security of their buildings.