Dalai Lama consecrates Buddhist Temple in Hiroshima
By Tsering Tsomo, Phayul, Nov 1, 2006
Hiroshima, Japan -- His Holiness the Dalai Lama visited Hiroshima city Wednesday morning to bless a Tibetan Buddhist temple.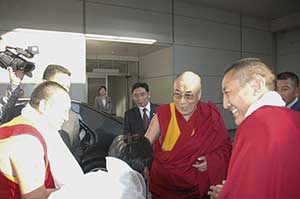 << The Dalai Lama blessing a group of Tibetans and their supporters after arriving at the Hiroshima airport. He is scheduled to attend a two-day peace summit from November 1 with fellow Nobel Peace Prize laureates Archbishop Desmond Tutu of South Africa and Ms. Betty Williams of Northern Ireland in the city. Chope Paljor Tsering, the Liaison officer of the Dalai Lama for East Asia, is also seen in the photo. Photo: Lobsang Wangyal
The Ryuzoin Drepung Gomang Temple where the Dalai Lama held consecration prayers is officially regarded as the first Tibetan temple in Japan. Founded in July 2004, Ryuzoin is a place for Buddhists in Japan to pray and learn about Tibetan Buddhism.
After the consecration ceremony, the Dalai Lama addressed a gathering of about 80 people, mostly sponsors and devotees of the temple. In his short impromptu speech, he said without rational understanding of Buddhist teachings, faith and devotion was meaningless.
Highlighting the significance of studying Buddhist scriptures to fully comprehend Buddhist teachings, he related to his own experience of "a 71-yr-old monk still consistently studying and learning Buddhist scriptures".
He also introduced Khensur Tenpa Gyaltsen, the head lama of the Ryuzoin Temple and former abbot of Drepung Gomang Monastery in South India, to the gathering. He expressed hope that Ryuzoin will flourish under the spiritual guidance of Khensur Tenpa Gyaltsen.
There are four Tibetan monks including the head lama at Ryuzoin and the monks hope that the number will increase in few years. The Temple is a branch of Drepung Gomang monastery in South India and is supported by Manjushri Mahayana Buddhist Association, a religious organisation that works to introduce Tibetan Buddhism among Japanese people and promote exchange of ideas between Tibetan and Japanese Mahayana Buddhism.