Dalai Lama consecrates a Buddha statue in Japan
By Tsering Tsomo, Phayul, November 3, 2006
MIYAJIMA, Japan -- His Holiness the Dalai Lama consecrated a new Buddha statue Thursday afternoon at the famed Daishoin Temple in Miyajima Island of Hiroshima prefecture.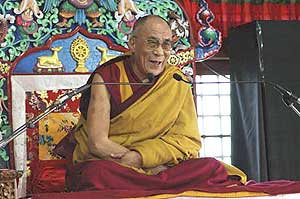 << The Dalai Lama smiles during the consecration ceremony of a statue of Maitreya Buddha in 1200-year-old Daisyoin temple in Miyajima. The Dalai Lama will give teachings at this temple until 8 November. (Photo by www.lobsangwangyal.com)
The Maitreya Buddha statue, also known as Jetsun Jampa Gonpo or the Future Buddha was declared sacred after the Dalai Lama led a consecration ceremony participated by Tibetan and Japanese Buddhist monks.
The Tibetan monks from Drepung Gomang monastery in South India offered prayers along side the Daishoin monks who are followers of the Shingon sect of Japanese Buddhism.
Earlier in the morning, the exile Tibetan leader visited Itsukushima Shinto shrine, located few metres away from Daishoin Temple. He had visited other well-known Shinto shrines during his 2003 and 2004 visits in Japan. According to Mr. Chope Paljor Tsering, his Liaison officer in Japan , the Dalai Lama frequently visits temples of various religions in order to foster friendly relations and better understanding between different faiths.
To a gathering of over 1000 devotees, he said although there are different faiths, compassion is a universal religion. He said Japanese people have the talent and material wealth to help the poor in developing nations. Underlining Japan's ability to contribute to world peace, he urged for the creation of peace corps of schoolchildren so that they could be sent all over the world spreading message of peace and non-violence.
He will stay at Daishoin Temple for 5 days during which he will give teachings and empower Buddhist students.