We are waiting for the Dalai Lama to come back: Chinese Buddhists
By Tsering Tsomo, Phayul, November 6, 2006
MIYAJIMA, Japan -- Buddhist devotees from China said Monday that many Chinese want the Dalai Lama to come back to Tibet. "Tibet is his home and he should be where he rightfully belongs", a 54-yr-old Chinese man from Beijing said requesting anonymity.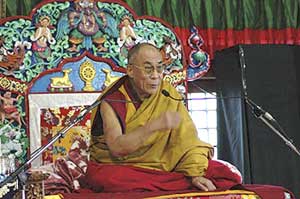 << The Dalai Lama delivering a Dharma talk at Daishoin Temple in Miyajima Island, Japan
He is among a group of Chinese devotees attending the Dalai Lama's teachings at Daishoin Temple in Miyajima Island.
"We are waiting for him to come back. It is not only the Tibetans but also millions of Chinese Buddhists who want to get his blessings and hear his teachings," the man's 35-yr-old wife said in an interview with the exile Tibetan journalists at Daishoin. She is attending the Dalai Lama's teachings for the first time but her husband has attended twice in the past.
The complete ban on religious books authored by the Dalai Lama has compelled many Buddhists in China to engage in underground activities so that they can have access to his teachings. "Everything is done surreptitiously. We buy his books during overseas tour; print them clandestinely and distribute among Chinese Buddhists who really wants to see the Dalai Lama," a 34-yr-old woman said showing an old photograph of the Dalai Lama, which she says she carries daily in her purse. She said 'Awakening the Mind, Lightening the Heart,' a book by the Dalai Lama on core teachings of Tibetan Buddhism is very popular among Chinese Buddhists.
When asked if it was illegal in China to display photographs of the exile Tibetan leader, she said it is relatively easier for the Chinese because they can place his photographs in the privacy of their homes where the police generally cannot enter. "So, even if it is illegal, we still have this freedom; our only freedom. But it is not easy for the Tibetans", the woman said refusing to reveal her identity.
Many in the group said they have visited Tibet to learn more about Buddhism from Tibetan lamas. A couple said they visit Tibet every year to meet their Tibetan teacher. Recalling a false news that spread in the middle of this year about the Dalai Lama's arrival in China and Tibet for pilgrimage, they said they were "very disappointed" when it turned out to be a rumour. "We prayed and wished for it to be true but sadly it was not to be!"
"We love the Dalai Lama! From our heart! Very much! And we hope he comes back soon, " the group cried in unison when asked about their sentiments towards the Dalai Lama.