Dalai Lama gives the first-ever Tantric Buddhist Empowerment in Japan
By Tsering Tsomo, Phayul, November 6, 2006
MIYAJIMA, Japan -- More than a thousand Japanese-Buddhist followers on Monday received preliminary Tantric empowerment from His Holiness the Dalai Lama at Daishoin Temple in Miyajima Island.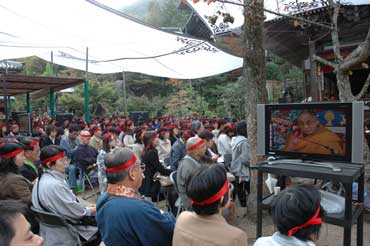 << MIYAJIMA, Japan, 6 November 2006 - Japanese devotees receiving Namnang Ngon-Jang (Vairochana Abhisambodhi) Initiation from the Dalai Lama at Daisyoin Temple. He said, like the Japanese sacrificed their lives for their country during the second world war, they should now dedicate their lives for the study and practice of Buddhism. (Photo: Lobsang Wangyal)
The 3-day empowerment concluding Wednesday is the first-ever Tantric Buddhist empowerment given by the Dalai Lama in Japan. It is also the largest and most extensive teachings the exile Tibetan leader has ever given in Japan.
He led the initiation rituals for empowerment in the morning and granted preliminary empowerment of Mahavairochana Abhisambodhi Tantra, which comes under Yoga Tantra, the third of the Four Tantric Buddhist Schools.
Majority of Buddhists in Japan are followers of Tantric Buddhism. The Daishoin Temple practices the Shingon sect of Tantric Buddhism which was introduced in Japan in 809 A.D. by Kobo Daishi, also called Khorpa Tharchin or Namkhai Gyatso in Tibetan. Kobo Daishi mastered Buddhism in Tang China and began meditating at Mt. Misen where Daishoin Temple is located. An eternal Fire, first lit by Kobo Daishi, still burns at the sacred Mt. Misen in Miyajima Island. The same fire was used to light the Flame of Peace in the Hiroshima Peace Memorial Park.
In addition to a Maitreya Buddha statue consecrated recently by the Dalai Lama, the Daishoin Temple also has an image of Chenresig or The Four-Armed Avalokitesvara. On the wall just beside the Maitreya statue is a huge colored sand Mandala made by the Tibetan monks.