Buddhists answer call to fill void
By HIROYASU TAKAYAMA, The Japan Times, May 25, 2007
Temples reach out to locals to regain social relevance
KAWAGUCHI, Saitama Pref. (Japan) -- About 15 mothers and children mash up boiled soybeans at the command of Joko Yoshii, a 33-year-old Buddhist priest clad in a black clerical garment. They are making miso at a class in a Buddhist temple north of Tokyo.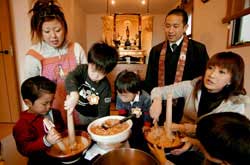 << Mothers and kids make miso under the direction of Buddhist priest Joko Yoshii in the main hall of Zengyoji Temple in Kawaguchi, Saitama Prefecture, in February. KYODO PHOTO
Their final job in the main hall of Yoshii's temple, where the principal Amida Buddha statue is enshrined, is to mix the mashed beans with salt and "koji," a fermenting agent. The mixture will be left for half a year to produce miso, an indispensable part of the traditional Japanese-style breakfast.
"Miso-making was easier than I had expected. I had never visited any temple except during Bon. But I'm surprised at the openness of this temple," said Emiko Murakami, a 35-year-old housewife who was attending the class with her two sons.
Buddhist temples used to thrive on support from strong networks of local parishioners, but recently they have been criticized for entering people's lives only in times of death as community and family ties continue to fade in the shadow of Japan's postwar modernization.
Yoshii, the second son of a priest of the Jodo Shinshu Honganji branch of the Jodo Shinshu (True Pure Land) sect headquartered in Kyoto, started his working life as a tour conductor at a travel agency. He initially considered the idea of becoming a priest unattractive, but changed his mind when he turned 25.
He then got a job as a preacher at a temple run by Jodo Shinshu in Fresno, Calif., in 1999 after he passed a qualifying exam sponsored by the sect, which has nearly 7 million members, of whom about 80 percent are Americans of Japanese origin. He spent two years preparing for the exam.
Yoshii graduated from a Buddhist-affiliated university and launched his own temple, Zengyoji, in Kawaguchi, Saitama Prefecture, in June 2006 with support from Jodo Shinshu based on his five-year experience in Fresno.
Jodo Shinshu, founded by Shinran (1173-1263), is different and independent of the Jodoshu (Pure Land School) sect, which was founded by Honen (1133-1212). Its doctrine centers on absolute trust in Amida Buddha's saving power. Shinran was a disciple of Honen.
Along with preaching, Yoshii sponsors a series of traditional seasonal festivals and ceremonies at his temple, such as bean-throwing for "setsubun" (the seasonal divide) in spring to "drive out devils" and the pounding of "mochi" (sticky rice) for the New Year. The events used to draw just his wife and two sons, but now they average about 100 people a month.
"In the past, Buddhist temples had been playing the role of local community center in education and festival activities. I hope my temple becomes a place where neighbors talk to each other about both what brings them joy and pain. These events are to create such an environment," Yoshii said at the main hall, where children were running around chasing each other.
In his Fresno days, the temple where Yoshii served was a base for volunteer activities and fun events, such as dancing the hula and playing drums, with discussions on serious issues such as love and life and death.
A husband decided to change his career from lawyer to monk after his wife died saying a prayer to the Amida Buddha, who in Buddhist lore is believed to live in the Western Pure Land. Yoshii also quoted a former Christian member as saying, "Amida Buddha is to save the lives of all beings. That is love."
"The Fresno temple was not only for the aged but for local residents, who help each other and enjoy their life together as people did at Buddhist temples in Japan in the past," Yoshii said.
Noriyuki Ueda, 49, an associate professor of cultural anthropology at the Tokyo Institute of Technology, was shocked when he heard one of his students tell him that she visits a church rather than a temple when she needs help because a temple is "likely to shut the door on me."
"Modern Buddhism does not respond to our anguish," Ueda said. "The religion has to become a 'listening' one and not a 'preaching' one. The traditional communities have already collapsed in the face of the widening disparities. Buddhist temples currently number less than 80,000, but they could change Japan's mental scenery if they listen to people's troubles and embody a place to show mercy," the prominent anthropologist said.
A survey conducted by the Japan Buddhist Federation found that about 70 percent of resident monks at some 2,000 temples throughout the country said local people want the traditional Buddhist world to provide overall care, while only 30 percent said they believed it did so. In particular, they said not enough is done to help the weak and protect the environment, the survey said.
But when asked whether their own temples responded to such local expectations, some 60 percent of the polled said, "Yes."
"This gap reflects a sense of crisis and complaints about the present Buddhist leaders by resident monks, who are trying to respond to local hopes but feel the limits of their power," said Satoru Eguchi, director of public relations at the federation.
Kotaro Sugiura, a 58-year-old civil servant in Kawaguchi, paid a visit to Zengyoji at the end of November 2006 to ask for a Buddhist service for his elder son, who had died at age 24 one month earlier.
The service marked the 49th day since his death, a traditional memorial day for the recently departed in Japan. Sugiura had balked at using a priest introduced by a funeral company.
"I felt an absence of absolutes for the first time in my life and began to think about what religion is. I could not have taught a way of life to my late son. I hope to play a role in listening to others' anguish, while studying Buddhism," said Sugiura, who has started to go to Zengyoji monthly with his family.
Outenin Temple in Osaka's Tennoji Ward is one of many Buddhist temples like Zengyoji that aim to turn themselves into places for "learning, healing and fun." Since 1997, the Osaka temple, which has no parish or graveyard, has held more than 50 events such as symposiums, movies and plays at its theater hall, where about 30,000 youths attend annually.
"It will take much time until our ideal Buddhist temples are achieved. It took a century in the United States," Yoshii said. "I'm satisfied if our grandchildren feel knowledge of Buddhism to be useful a century from now."