Pillaging the pilgrims
By MICHAEL HOFFMAN, Shukan Gendai, June 24, 2007
Tokyo, Japan -- "We two, pilgrims together," is the motto of the pilgrimage to the 88 sacred places of Shikoku — "two" because at each pilgrim's side, says tradition, walks Kobo Daishi (774-835), founder of Japanese Shingon Buddhism and probably the nation's most revered religious teacher.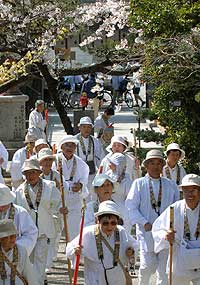 << Pilgrims chanting and making their way to the sacred sites of Shikoku
The pilgrimage, centuries old, takes you 1,200 rugged kilometers along the perimeter of the country's fourth-largest island, Kobo Daishi's birthplace. It takes anywhere from one to two months on foot. You don't have to walk — you can drive, or board a tour bus, or pedal a bicycle. But walking is the traditional way, and since a tradition-defying pilgrim is something of an anomaly, throngs of white-clad, sedge-hatted henro trekking from temple to temple are a familiar local sight. Their numbers began a marked rise seven or eight years ago when the economy was crumbling and people were seeking fresh insights into the meaning of life. Today some 150,000 a year are proud to call themselves henro.
Religious seekers are vulnerable to those who prey on innocence. Not everyone on the pilgrims' path is a pilgrim. Beware, warns Shukan Gendai, of thieves, con artists and rapists.
Theft of wallets and other personal belongings at the free lodgings set up for pilgrims along the way is a festering nuisance. "There are all kinds of people among the henro," says the superintendent of a lodge in Kagawa Prefecture. "There are convicted murderers, and yakuza types who have been kicked out of their gangs. Then there are the phony henro, who have no other purpose in mind than theft or rape. We tell everyone who stays here, 'Watch your valuables!' "
Fast-talking fraudsters abound. On the wall of a pilgrim lodge in Tokushima Prefecture hangs the photograph of a middle-aged man. The caption reads: "This person has many victims among pilgrims!"
His line is that he's in the movie business, making a movie about Kobo Daishi; "would you like to be in it?" All you have to do, he says, is help fund production. You'd think pilgrims, of all people, would have transcended the vanity this approach so transparently stokes, but it takes more than pilgrim's garb to change human nature, and the man is believed to have swindled his dupes out of some 5 million yen altogether.
It almost goes without saying that not all the "pilgrims" begging for alms — begging is a legitimate religious discipline when the goal is bare sustenance rather than profit — have pure motives. A clever fake can earn 10,000 yen a day, Shukan Gendai says. What is the sympathetic would-be donor to do? Withhold alms on the grounds that the beggar may not be genuine? Or give, knowing that the recipient may be unworthy? It seems an insoluble dilemma.
Theft and fraud are bad enough, but physical violence, though less frequent, is the pilgrim's ultimate bane.
"We're seeing more and more young women walking the pilgrimage route with no money on them," says one lodge-keeper. "They have no choice but to sleep in shared rooms with total strangers."
It's a situation that brings out the worst in some men, pilgrims or not. Shukan Gendai isn't suggesting seekers abandon the pilgrim's path to self-transcendence. But it concludes with a grim warning: "In a harsh world, the only protection is self-protection."