Exhibition honors half-century of nun Setouchi's career as writer
The Yomiuri Shimbun, July 1, 2007
Tokyo, Japan -- Commemorating the 50th anniversary of Jakucho Setouchi's career as a writer, an exhibition titled Setouchi Jakucho-ten will open this month in Tokyo, displaying about 200 items of importance in her life, including the original manuscripts of her books, Buddhist statuettes she made and letters Setouchi and her author friends exchanged.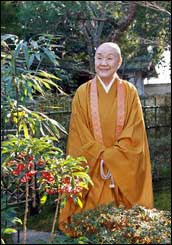 << Jakucho Setouchi, an 84-year-old Japanese Buddhist nun and novelist, won a number of literature awards
The exhibition on the 85-year-old popular novelist and Buddhist nun of the Tendai sect starts July 12 at the Takashimaya department store in Nihonbashi, Tokyo.
The items include statuettes of Buddhist deities she made by hand using earth, stone or wood, and a calligraphic work written by a friend, the Buddhist philosopher Takeshi Umehara, which used to be on display at the entrance of Jakuan--her hermitage in the Sagano district of Kyoto.
The featured exhibits also include the 4,000-page manuscript of her transliteration of Genji Monogatari (The Tale of Genji) into modern language; and the original pictures drawn by Japanese-style painter Tatsuya Ishiodori, which were used as illustrations for the modern versions of Genji.
Born in 1922 as Harumi Setouchi in Tokushima, she graduated from Tokyo Women's Christian University with a degree in Japanese literature.
She married while at the university, but later had a love affair with one of her husband's students. After she divorced, she left for Tokyo in order to pursue her writing career.
Since she debuted in 1956 as an author, she has written many love stories featuring strong female characters, gaining popularity especially among women.
Her 1960 novel, Kashin (The Center of a Flower), was harshly criticized as pornographic at the time for the story's frank sexuality.
In 1962, she was awarded the Women's Literary Prize for Natsu no Owari (The End of Summer). In 1992, Setouchi received the Tanizaki Prize, one of the nation's most prestigious literary awards, for her novel Hana ni Toe (Ask the Flower).
She took Buddhist vows and received the name Jakucho as a nun in 1973 when she was 51.
In November last year, she was awarded the Order of Culture for her contributions to writing.
At the show, video images of interviews with Setouchi about her eventful life and writing works will be shown, while her writing room at the hermitage will be re-created in a corner of the exhibition space.
Setouchi feels her 85 years have passed in the blink of an eye, according to comments she made in an official statement released for the exhibition.
"I've never thought I would live such a long life. I'm happy such a big exhibition will be held while I'm alive. I'm hoping visitors will enjoy it," she said in the statement.
Setouchi Jakucho-ten will be held July 12-23 on the eighth floor of the Takashimaya department store in Nihonbashi, Tokyo. Open 10 a.m.-8 p.m. (6 p.m. on July 23). Admission is 800 yen for adults, 600 yen for university and high school students. The exhibition will tour to Tokushima, Kyoto and Nagoya, later this year, and Yokohama, Matsuyama and Osaka next year. For further information, call the department store at (03) 3211-4111.