Japan "nuns for a day" mix religion and role-play
By Linda Sieg, Reuters, Jul 1, 2007
KYOTO, Japan -- No one seems to mind that I'm more familiar with Methodist hymns than Buddhist sutras when I arrive at Ryugenji temple in Japan's ancient capital of Kyoto to sample their "Buddhist Nun for a Day" experience.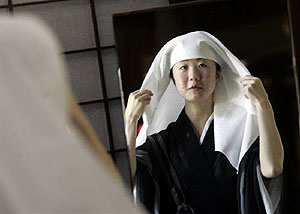 << Ayako Yasui is seen reflected in a mirror as she adjusts her Buddhist nun outfit during a "One-day nun experience" workshop at Ryugenji temple in Kyoto, western Japan, June 17, 2007. REUTERS/Yuriko Nakao
Ushered into a small room with tatami straw mat flooring, I pay about $65 for the six-hour course, write a prayer in Chinese characters on a wooden stick, and don a light-weight white kimono and tabi socks split at the toes to ease wearing sandals.
Joined by six other women in a larger hall adorned with an altar to Kannon, the Buddhist goddess of mercy, we get a crash course in how to fold our hands in prayer and read a sutra, then line up to walk to the main temple, a priest leading the way.
That's when I realise that despite the many years I have lived in Japan, I still do not quite fit in.
A glimpse of the tiny sandals lined up in the entryway throws me into a brief panic before I manage to squeeze a pair onto my outsized foreigner feet.
Echoing the priest's chant of "Om san maya sato ban", we step over burning incense to purify body and soul, have our heads symbolically shaved, and receive rosaries and habits: a white wimple, black "jikitotsu" robe and grey surplice.
Eyes closed, I join the others in "anza" -- meditation sitting cross-legged in traditional Zen style -- and try to empty my mind while a breeze ruffles the wimple that is fastened, a bit inelegantly, with a safety pin.
Briefly shedding my obsession with journalistic observation, I embrace the calm, away from the stress of life back in Tokyo.
Though raised by Methodist parents, I attended a Quaker school and find the experience reminiscent of the "meetings for worship" of my youth, where we gathered in silent prayer.
RELIGIOUS "COS-PLAY"
But the peace is disturbed by a sense that we are playing a bizarre form of dress-up.
For some of the women, that is precisely the point.
"I came for the 'cos-play' experience," says Kumie Nishimura, 28, referring to the popular hobby of dressing up, often as characters from manga comics, anime movies and video games.
"We've already tried ninja, maiko (novice geisha) and samurai," says Nishimura as she chats with two friends and checks her pink cell phone for messages.
Koyo Watanabe, the slightly pudgy priest who mentors us for the course, has few illusions about participants' motives.
"Many Japanese don't think deeply about religion," he says, noting the eclecticism that allows many to combine Christian weddings -- though few are Christians -- Buddhist funerals, and periodic visits to indigenous Shinto shrines.
"Some women come to wear the clothes. Others have some worry, about work or an illness," he says as we sip green tea.
NOT ALL FRIVOLOUS
No one in our group is contemplating taking the veil. It was once a common path for girls seeking higher education or for those whose families had too many mouths to feed, but is now an unattractive option for most modern Japanese women.
The Soto-shu sect of Buddhism, said to have the most nuns, once had thousands but now has only about 400, most elderly.
Still, not all of my companions this day are frivolous.
"My husband is Christian, but I really don't understand what religion means, so I wanted to find out about Buddhism," says Chihara Kaminaga, 32, who has lived much of her life abroad.
Twenty-six year-old Ayako Yasui wants to learn more so she can pray for her grandfather's soul, but was embarrassed when she first put on the habit.
"Then I realised one could enter into Buddhist teachings by taking on a different appearance from everyday life," she says.