Kyoto Zen temple offers hands-on experience to woo foreign visitors
By HIROSHI KAWAKAMI, The Japan Times, Aug 9, 2007
KYOTO, Japan -- A Buddhist temple is offering a one-of-a-kind experience to foreign visitors this summer in an effort to promote tourism and encourage repeat visits to Kyoto.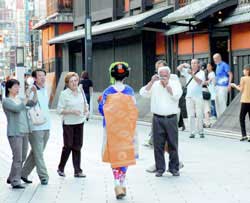 << Foreign tourists gather around to photograph a "maiko" apprentice geisha in Kyoto. KYODO PHOTO
The number of foreign tourists staying in hotels and other accommodations in the city has remained flat at around 400,000 a year for the past decade, according to the Kyoto Municipal Government.
Once the capital of Japan and the site of the Imperial family residence for more than 1,000 years, Kyoto saw a record 730,000 foreign tourists in 2005, thanks to the World Exposition in Aichi Prefecture and the depreciation of the yen. But a tourism promotion official said there is no guarantee the favorable situation will continue.
Daiko Matsuyama, deputy chief priest of Taizoin Temple, which belongs to Myoshinji Temple, founded by Emperor Hanazono in 1337, has worked out a program that stands apart from normal tourist visits to Buddhist temples, Shinto shrines and other celebrated places.
The tour program that Matsuyama, the oldest son of a Buddhist priest, is promoting this summer allows tourists to experience a Zen meditation session, attend a traditional tea ceremony, engage in calligraphy, spend time viewing a Japanese-style garden and sample specialty dishes such as deep-fried vegetables.
Matsuyama, 28, wants foreign visitors to "look at the garden, listen to the sound of water, smell the fragrance of burning incense, taste a dish (of tempura) and purify their minds through meditation."
He wants them to feel the world of Zen through their five senses and to become aware of the virtues of Japanese culture.
Matsuyama developed the program based on his own experiences traveling abroad. He visited more than 30 countries in Europe and Africa after graduating from the University of Tokyo's school of agriculture, where he majored in developmental economics.
While traveling abroad, Matsuyama realized that the elements of Japanese culture clustered in Kyoto have a healing effect that no other country can provide. This led him to the idea of making this a selling point for tourism, which would help boost interaction between Japan and other countries.
In another development, the Kyoto Traditional Musical Art Foundation, which aims to hand down the tradition of performing arts associated with geisha and teahouses in Kyoto, has been teaching conversational English and foreign manners to "maiko" apprentice geisha since last year.
The foundation sends lecturers to rehearsal rooms in five entertainment districts where they help the novice geisha enhance their skills in receiving foreign guests.
They learn how to respond to questions in English about their work and why they became maiko.