Osaka's ex-deputy mayor to become nun
by Yasuko Sawada, Yomiuri Shimbun, Sept 9, 2007
Osaka, Japan -- After serving as Osaka deputy mayor, lawyer Mitsuyo Ohira has a new goal--to become a Buddhist nun.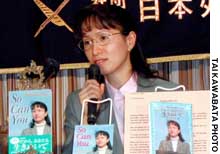 << Ex-Osaka Mayor Mitsuyo Ohira
Ohira has studied Buddhism for three years on a distance-learning program at Chuo Bukkyo Gakuin, a Buddhist school in Kyoto. Having passed the final examination, Ohira's last hurdle before becoming a nun is an 11-day residential training session.
"Was this an unexpected career change? Not at all," Ohira said, adding that she came to the decision quite naturally.
The 41-year-old lawyer said she initially was motivated to make the career change after meeting some youngsters who had got into trouble. She was to defend them and she tried hard to talk them into reflecting on their actions, which had caused harm to others. But her words seemed to fall on deaf ears.
Ohira then pinched their hands and asked them, "That hurts, right?" They nodded. But when she told them that other people would feel pain in the same way if they were pinched, too, the juvenile delinquents said other people would not feel any pain.
Tormented by bullying, Ohira once attempted suicide when she was a middle school student, after which she became something of a delinquent herself. But she said she could still understand the pain of others even at the time.
Ohira thinks that adults these days seem incapable of teaching children about the feelings and pain of others. When looking for ways to help children develop an ability to consider the feelings of others, Ohira came to the conclusion that religion might work.
In December 2003, shortly after she decided to enter the Buddhist school, Ohira was asked by Osaka Mayor Junichi Seki to help him reform the city's education as his deputy mayor. It was an unexpected offer, but it did not take her long to decide to take up his offer, she said.
"The approach itself was different, but the aim was the same," Ohira said.
So she changed her plans and started studying the religion on the distance-learning course while taking care of her public duties.
There were major developments in her private life, too. After stepping down from the post of deputy mayor in October 2005, she married and had a daughter. Spending time raising her own child, Ohira found her compassion for children increased, she said.
Ohira plans to participate in her final training when she can find a convenient moment to take a short break from bringing up her daughter, she added.