Japanese temple goes on auction bloc over unpaid tax
AFP, Oct 29, 2007
TOKYO, Japan -- Aficionados of Buddhist art have the chance to buy the ultimate Zen Buddhist collector's item: a Japanese temple.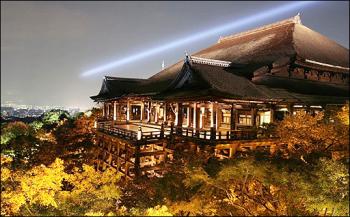 << Kyoto's Kiyomizu Temple
A tax bureau is auctioning off the temple, which includes a 75-meter-high (246-foot) pagoda and Japanese garden along with several other buildings on a 34,000 square-meter (40,000 square-yard) lot.
The asking price: 3.5 billion yen (30.6 million dollars).
The Daishizan-Seidaiji temple was built in 1987 in Katsuyama in western Fukui prefecture by the head of a regional taxi company who had grown rich.
"He wanted to build something grand and religious in his native town as an attraction," a city tax official told AFP.
The man spent 38.5 billion yen build the entire temple. But the entrepreneur, who has since died, failed to pay more than three billion yen in taxes over about 10 years.
"He wanted it to be a classy place, so he set a high entry fee and charged high fees for parking as well. There were also troubles with travel agencies. So it didn't receive many visitors," the city official said.
A property management firm was set up to run the temple, but the company could not pay taxes on the site because it failed to attract visitors, he said.
The property firm gave up the site and in 2002 part of it became a real temple under an established school of Zen Buddhism.
The temple's main structure housing a 17-meter-tall (56-feet-tall) bronze Buddha statue will not go on sale and will stay in operation, the official said.
"We cannot tell whether we will receive any bidder for this. But the city can't buy it. The Zen school can't buy it. We have to auction it out."