Temples use music, events in hope of attracting younger generation
by Kumi Matsumaru, Daily Yomiuri, Feb 15, 2008
Tokyo, Japan -- Buddhist temples, largely known for their solemn atmospheres of reflection and chanted sutras, are searching for new ways to bring the religion back into our daily lives.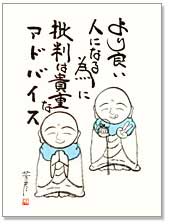 Kansho Tagai, a monk at Kyooji temple in Shinjuku Ward, Tokyo, is planning to hold next week a cutting-edge spoken word performance backed up with percussion and a sound producer.
"A temple's hondo [main building] is meant to be a place where people get together and mingle," Tagai says. "But people are forgetting this."
"About 10 years ago, I opened up this space for these kind of events," Tagai continues, "and it's given me a lot of opportunities to meet people and get to know them."
Called Chiisai "Tsu" ga Kieta Hi (The Day the Small "Tsu" Vanished), the event, to be held on Feb. 23 at the Nichiren sect temple's hondo, will be open to 100 attendees. Yoko Hara will read the story, based on the book of the same title by Stefano von Loe.
Aya Shimada will pantomime and sing with musical accompaniment by Kaya. Sound producer Yaichiro Wada will provide sound effects. Von Loe, a German native who studied at Sophia and Tokyo universities, wrote the tale about the disappearance of the small tsu (a Japanese character that indicates a doubled consonant) from a village inhabited by characters in the Japanese syllabary. The tale caused a stir in the linguistic world.
It will be the 15th performance in a series called Pundarika Live. Tagai started the project in 2005, choosing the word Pundarika--Sanskrit for white lotus flower--with the aim of providing people with the chance to meet others. He hopes that people will also come away from the event with a bit of insight into how they can make their lives easier, no matter what their troubles.
Pundarika Live has included a large variety of events, including a clarinet recital and a noh performance. Particularly popular was the temple's performance of the musical Happa no Freddie, whose script was written by terminal-care physician Shigeaki Hinohara. The musical is scheduled to be restaged on March 29.
"At the end of each event, I give a short talk about the program and Buddhism," says Tagai, who goes by the name Happiness Kansho. In Toshishun, in which the story by Ryunosuke Akutagawa was put to dance and music, Tagai rapped Buddhist sutras. The monk-cum-emcee says the event was such a hit that the temple plans to hold it again in September.
Tagai is also behind Hanamatsuri, an event combining storytelling, shomyo--traditional Japanese Buddhist chanting--gagaku court music and traditional Japanese dancing, all on the theme of Buddha's life. "I also want people to learn more about Buddhism and incorporate it into their lives," he said.
===
A brighter alternative
"When people think of temple, they tend to think of it as a shadowy, scary kind of place," jokes Hogen Natori, the head priest at Mitsuzoin temple in Edogawa Ward, Tokyo.
"This is because temples have long been regarded as being associated with death. This stems from the fact that many people only visit their temple for Buddhist rites. People have become estranged from their places of worship, especially since the country's period of rapid economic growth.
"But I want everyone to know that temple is actually a joyful place, a place that makes you smile," Natori says. That, he explains, is why he organizes a number of non-memorial events at the hondo of his temple. His temple, which is part of the Shingon sect, is extremely clean and is filled with the scent of incense.
Events range from shakyo, the transcription of Buddhist sutras, to concerts by street musicians. He also counts among his projects rokyoku storytelling accompanied by a shamisen. The next rokyoku event will be held on Feb. 25.
According to Natori, most of those who attend these events are not regular visitors but instead--and to the pleasure of Natori--"people for whom temple has no part in their daily lives."
"I want my temple to be a place where everybody can feel free to visit," he says.
Even so, Natori admits he has been unable to attract enough people to satisfy his goals. So he puts on performances outside the temple to reach more people, taking advantage of his shomyo chanting skills. "Every month I perform shomyo with a couple of other priests at a club called Chippy."
"I was having a drink and listening to some music there when I came up with the idea for us to play shomyo, clad in our kesa priest robes," says Natori, whose next gig is planned for March 12.
"In the past, there were people who left as soon as they saw us. They probably thought we were performing some kind of Buddhist ceremony," Natori recalls with a smile. "But now, a lot of people come to see us."
Natori adds that he even offers advice to audience members upon request.
Natori also is considering holding a flea market at Mitsuzoin to increase his temple's appeal. "I'm also thinking of opening a branch of our temple in Shibuya's Center-gai street so I can attract many young people who don't normally go to temple."
At Komyoji temple, outside Kamiyacho subway station in Tokyo, Keisuke Matsumoto is proactive in creating activities that bring people together with his religion.
"Going to temple used to be a part of our lives, but it became the norm for people to go only for memorial services. I got to thinking something needed be done to change the way temples fit into the modern world," Matsumoto said.
As a way to get people to come to the Jodo Shinshu sect temple, Matsumoto has been organizing since 2003 Tasogare, a series of events mixing live music performances, lay sermons and the reading of Buddhist sutras. "I hope people enjoy the events and welcome Buddhism to their lives through their visits," he said. The next Tasogare concert is planned for April.
To make it easier for people to stop by the temple, Komyoji serves coffee, hojicha tea and homemade sweets--although there is a limit to the number--on its terrace. Although the service is available only during April and October, the area has 10 tables and chairs, as well as some benches and sofas, which overlook a graveyard and up at the nearby Tokyo Tower, which is lit up after dark. The terrace is open to visitors from 9 a.m. to 5 p.m. on weekdays and people who work nearby are often found there during lunchtime.
Matsumoto also runs Kokuzan Higan-ji, a Web site he dubs "Net temple," which he uses to carry information about Buddhism-related events and projects, regardless of sect. Included on the site is a blog by "Buddhist statue lovers," a shojin vegetarian cooking lesson by a priest and basic questions and answers related to Buddhism. It also carries news about the monthly Kurayami Gohan project, in which you eat in darkness at Ryokusenji temple in Asakusa.
Matsumoto plans to launch an English language version of the Web site sometime later this year in the hope of further spreading the "charm of Buddhism."
Chiisai "Tsu" ga Kieta Hi
Feb. 23 at 2 p.m. and 6 p.m. at Kyooji temple near Ushigome Yanagicho subway station in Tokyo. Admission: 2,500 yen (2,000 yen, advance) for adults; 1,500 yen (1,000 yen, advance) for high school and middle school students. For further information, call (03) 3341-1314, or e-mail tagai@kyoouji.gr.jp
Rokyoku no Kai performance
Feb. 25 at 1 p.m. at Mitsuzoin temple in Edogawa Ward, Tokyo. Admission free.
Shomyo live concert
March 12 at 8 p.m. at Sound Music Bar Chippy near JR Shinkoiwa Station in Tokyo. 2,000 yen. For further information, visit Mitsuzoin temple's Web site at mitsuzoin.com
For Tasogare live and other Buddhism-related events, visit higan.net