Japan offers mourners high-tech access to ancestors
by Naoto Okamura, Reuters, October 10, 2008
TOKYO, Japan -- In one of the world's fastest-aging societies, Japanese seniors are worrying about a life-and-death issue: Finding an "after-life" home in an island short of land.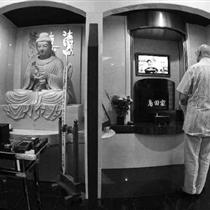 << Shinya Shimada prays in front of a modern tomb equipped with digital photos and robotic tombstone and urn retrieval at an indoor graveyard in Yokohama. Toru Hanai, Reuters
For some, going high-tech is the solution.
In accordance with Buddhist tradition, most of the dead in Japan are cremated, and the urns carrying their ashes are buried in traditional cemeteries with a gravestone marker.
But with a plot of land for a grave in Tokyo costing the equivalent of $18,000 to $30,000 Cdn, a high-tech, multi-storey vault -- costing a third of that -- is becoming the resting place of choice for many.
For 79-year-old Shinya Shimada, paying his respects around the time of Japan's annual Bon festival, when the spirits of ancestors are believed to return home, means a visit to a modern vault rather than a traditional graveyard.
"Initially, I was a bit uncomfortable with a high-tech grave. But now, I have come to see it positively," Shimada said.
At the nondescript three-storey building alongside a Buddhist temple, Shimada uses an identity card to dial up the gravestones and urns carrying his ancestors' ashes.
A library-stack-like machine behind altars transports them, complete with accompanying music and pictures of the deceased on a TV monitor.
"Looking at their pictures, I actually talk a lot more to my deceased parents and sister," Shimada said. "Unlike the usual gravestone, this makes me feel nostalgic."
In Japanese Buddhism, people traditionally visit their ancestral graves twice a year -- in spring and in mid-summer. They pour purifying water over the gravestone, place flowers and burn incense while praying for the deceased. Paying respects to ancestors is considered a filial duty.
The monk whose temple owns the high-tech vault, Houkou Shimizu, said it took him some time to warm to the idea. But limited land space prompted him to install the state-of-the-art machine, manufactured by Toyota Industries Corp.
"I thought it was okay to bring the practice of visiting a family grave up-to-date with technological advances," he said. "Temples are so separated from society today but thanks to this high-tech system people have turned their attention to the Buddhist memorial service."
The aging of society means there are more funerals taking place across Japan. Fewer children means that far-away graves in a family's traditional home area are also increasingly neglected.
Shimada said he now visits his family grave at least once a month. In the past, he managed to go to the centuries-old grave twice a year as it was located in his home town of Nagano, about 200 km west of Tokyo.
"My daughter is happy to have it close by and my wife and I are relieved," he said.