Greedy world needs Tibet's compassion: Dalai Lama
AFP, Nov 5, 2008
KITAKYUSHU, Japan -- The Dalai Lama said Tuesday that preserving Tibet's culture of compassion was more important than ever in a world that is steeped in greed and materialism.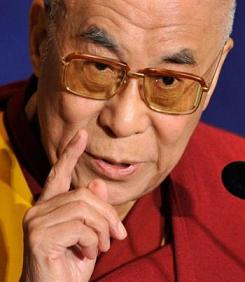 "Up to now on this planet, I think people put all their hope on money, on material wealth. It is unethical and very unhealthy," Tibet's exiled spiritual leader told an audience of 5,000 in this city in southwest Japan.
Preserving Tibetan Buddhist culture "is not only the concern of Tibetans but also of central Asia and also China proper" where there are 100,000 followers of Tibetan Buddhism, he said.
The 73-year-old Nobel peace laureate said an increasing number of people were rejecting material wealth.
"Now I think that the time has come where more and more people are considering the importance of justice, transparency, and truth. I think that's one healthy sign. And with that the desire for peace is also increasing.
"People are more and more fed up with violence, with war. But we have to take more action. The system is still not adequate to provide humanity with more peace and more satisfaction. So we have to get to work," he said with a smile.
The Dalai Lama, who has lived in India since fleeing Tibet in 1959, is a frequent visitor to Japan, where he enjoys an active following.
Unlike many Western nations, Japan, which has an uncomfortable relationship with China, has almost always refused high-level contacts and no officials are scheduled to meet him on his current week-long trip.
China accuses the Dalai Lama of trying to split Tibet from Beijing through his travels overseas. The Dalai Lama says he is seeking meaningful autonomy for Tibet within China.
However, on Monday he said that the drive for greater autonomy had ended in failure, urging Tibetans to be open to all options in negotiations with Beijing over the region's future.