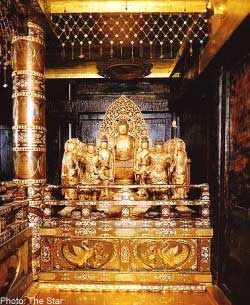 << The gold leaf-covered Buddha hall and an altar decorated with silver and gilt-bronze plaque
During the Heian era (794-1192), the town was the de facto capital of old Oshu, Japan's sole gold-producing region as well as being the producer of such prized commodities as horses, fine paper and lacquerware.
Its strategic location and accessibility made it the base of Japan's northeastern ruler, Lord Fujiwara no Kiyohira (1056-1128). Having come into power in a time of violence, Kiyohira envisioned a paradise on earth in Hiraizumi based on the Buddhist principles of peace.
In 1124, Kiyohira gave Japan a national treasure in the Konjikido, a golden hall within the town's Chuson-ji Temple that is so magnificent in its gold, silver and mother of pearl inlay that no camera can truly do it justice.
The Konjikido or Golden Hall takes centre stage in Chuson-ji today, as it is the only structure in the entire temple complex that has managed to withstand the test of time, having survived both disasters and wars.
The gold leaf-covered Buddha hall, with shell inlay works, gold-sprinkled lacquer, golden ceiling and an altar decorated with silver and gilt-bronze plaque is a sight to behold.
If all that dazzle doesn't awe you, perhaps finding yourself in the presence of Kiyohira and his descendants will do the trick.
In this hall, under the altar in peacock-decorated daises, are the mummified remains of Hiraizumi's rulers - Kiyohira in the centre dais, his son Motohira in the left, his grandson Hidehira, and his great-grandson Yasuhira's head in the right.
Tourists to Konjikido can view everything here while listening to recorded explanations in Japanese and English as to its history. Unfortunately, photo taking is prohibited.
Chuson-ji's Sankozo Museum is also a must-visit, as it houses national treasures like Buddhist images and artifacts and weapons from the 12th century.
Among them are the gilt-bronze kondo keman plaques with winged angels (kalavinkas), Buddhist sutras written in gold and silver on indigo papers and Kiyohira's famous peace pledge (ganmon) on the completion of Chuson-ji's main halls and pagodas, which he read aloud in 1126, proclaiming his wish to create a war-free utopian society. This was just two years before he died in his sleep.
I had a strange tingling feeling as I marvelled at the Konjikido and the artefacts at the museum, but I suppose anyone with a weak spot for history would.
Another historical site that gave me a surreal feeling was the Motsu-ji Temple, located 1.6km southeast of Chuson-ji. Motsu-ji is known for its Jodo (Pure Land) garden and the much photographed Oizumi ga Ike (Great Spring Pond). Time seems to have stopped at Motsu-ji, what with its timeless breathtaking natural scenery.
Oizumi ga Ike showcases Heian gardening techniques and style. It incorporates such distinctive features as a rocky cape, a small island, a curvy beach and a large standing rock, all of which are grounded by Mt Toyama which towers in the background.
At its northeastern side, an 80m-tall man-made winding feeder stream, believed to date back to the 9th or 11th century, brings mountain water into the pond. The stream is Japan's longest and only surviving Heian era feeder stream.
What is sad about Motsu-ji is the loss of its famed Kondo Enryu-ji Temple, a building that is said to have had no equal during its heyday in the 12th century. The temple, along with its halls, pagodas and dormitories, were destroyed in a fire after the Fujiwara family fell to Minamoto Yoritomo's Kamakura Shogunate in 1189.
All that is left of it are the ruins overgrown with grass - a sight Haiku master Matsuo Basho captured best with his 1757 masterpiece: The summer grass, 'tis all that's left of ancient warriors' dreams.
This haiku is engraved in stone at the Matsuo Basho monument located at Motsu-ji's southern gate.
A few minutes southwest of Motsu-ji is the Takkoku no Iwaya Cave Temple, a Shinto-Buddhist place of worship that dates back to 801, when it was built to commemorate Kyoto generalissimo Sakanoue no Tamuramaro's victory in the northeastern region and to honour the war deity Bishamon.
Although not as large and extravagant as Chuson-ji and Motsu-ji, Takkoku no Iwaya's elevated Bishamondo Hall is a structure to admire. Half of the building is exposed while the other is inside the cave, making it appear as if the building is supporting the hill and preventing it from tipping over.
But there can be no doubting the building's resilience either. Locals say the structure survived a 7.2 magnitude quake in June.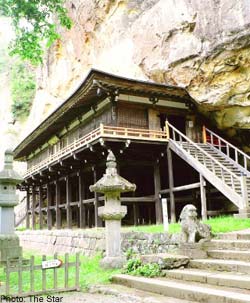 << Bishamondo Hall - Half of the building is exposed while the other is inside the cave

Beside Bishamondo Hall is a 16.5m rock carving of the Buddha on a cliff face. Legend has it that it was created when warrior Minamoto no Yoshiie fired arrows repeatedly at the sandstone cliff in an act meant to honour the war dead during the 11th century.
This Buddha sculpture is called the Northern Rock Buddha, and is one of the five large Buddhas in Japan. Originally, it was a full-figured image but its lower parts were destroyed in an earthquake in 1896. Consequently, only the face can be clearly seen today.
Hiraizumi receives about 43,000 visitors yearly. The quickest way to get to Hiraizumi from Tokyo by land is via the Tohoku Shinkansen (bullet train). The journey from Tokyo station to Ichinoseki station takes two hours and 10 minutes, while the trip from Ichinoseki to Hiraizumi by the Tohoku main line train takes just eight minutes.