Meditation time
By Simon Rowe, AsiaOne.com, Feb 25, 2009
Koya-San, Japan -- "THE time it takes for a stick of incense to burn is the time you should spend meditating," says Buddhist priest Ryusho Soeda.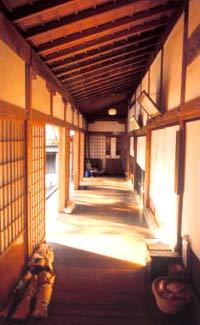 << Peace and calm in the hallways of Rengejo-in temple in Koya-san.
His soothing words are what I need to hear at 6am as I settle down for the daily meditation at Rengejo-in, a 600-year-old temple whose name means "temple of the lotus flower".
Early spring snow covers the stone lamps and temple pavilions of the Garan holy precinct.
Temples are a common sight on Koyasan, a mountain which forms part of the Kii ranges of south-eastern Honshu and is considered the home of one of Japan's oldest religions, Shingon Esoteric Buddhism.
A monastery was founded here in AD816 by a monk named Kukai, or Kobodaishi, as he is posthumously known.
More than 1,200 years on, his retreat draws over half a million pilgrims and tourists every year. Most of them arrive by a two-hour train ride from Osaka.
"This is hallowed ground for the Japanese. I feel an overwhelming sense of tranquillity among the forests and temples here," says Ms Chizuru Ono, a pilgrim whose visit to Koya-san marks the end of her journey to 33 temples in the greater Osaka region.
Pilgrims, like Ono-san, who opt to stay overnight on the mountain, can lodge at one of Koya town's 53 shukubos - temple inns offering a bed, bath and Buddhist cuisine in a traditional Japanese atmosphere.
"The temples are the town and the town the temples," says Mr Kurt Kubli Gens?, a Swiss Buddhist and resident priest at Muryoko-in, a shukubo popular with foreign visitors.
"Don't be in too much of a hurry to seek out its serenity and spirituality. Let them find you," he advises.
At the heart of the community lies the Kobo-daishi's grand pavilion of Kong?buji. Rebuilt by the warlord Hideyoshi Toyotomi in 1593, it is known colloquially as Koya-Issan, or "Mountain of Koya" for its vast gently sloping roof.
On March 4, the 12th K?ya Fire Festival, featuring a Buddhist ritual of cedarstick burning, will be held here and this is followed by a celebration of the Buddha's birthday on April 8.
Most of Koya-san's 117 smaller temples are easy to find among the narrow winding streets of the town - each is marked by tiny swastikas (a Buddhist symbol for prosperity and long life). The beacon for all pilgrims, however, is the Danjyo-garan.
A stroll through this central monastic complex is a walk among giants. The towering Eastern and Western Stupas, the 48m-high Great Stupa, as well as Kobo-daishi's former residence, the elegant Miedo hall, are huge.
Up until mid-March, snow lies on the ground. Stone lamps illuminate the whitened courtyards around the garden and the only sound one is likely to hear is the wind in the pines or the occasional clip-clop of a monk's wooden clogs as he scurries between the temples.
Early May sees the town awash with petals from blossoming cherry trees.
Sightseeing on Koya-san requires time and footwork. Staying overnight in a shukubo is a popular option for visitors.
Shukubos typically provide private rooms with tatami grass mats and futons.
The cost is around 6,000 to 9,000 yen (S$98 to S$148) per person per night (about the same as an Osaka business hotel room), and some feature manicured bamboo groves, carp-filled ponds or swirling sand gardens.
The highlight of my shukubo stay was when I sampled its shojin-ryori, or "devotion cuisine". This Japanese-style Buddhist cuisine has been served by Koya-san's monks for more than 11 centuries and is meant to purify the mind and spirit.
Prepared without any meat, fish, onions or garlic, it arrives at my table in a vast array of vegetarian dishes. These may include miso soup, homemade sesame seed tofu called goma-dofu, tempura-style forest ferns and pickled seaweed.
Dinner at Rengejo-in is served in an ambience befitting a shogun. Novice monks serve steaming rice, pour green tea and keep up a steady flow of Kirin lager.
Koya-san's monks have no qualms serving it.
Thus served, I am left to savour my food and contemplate the epic travels of deities across the dining hall's painted sliding doors.
Finally, it is to the communal bath one must go - the final place of purification for the temple-weary tourist.
Comprehending Japanese bath etiquette can be tricky. If, like myself, you have worked out whose bath slippers are whose or how to tie your yukata bath robe without it unravelling in front of the head priest, consider yourself enlightened.
Visit www.shukubo.jp/eng for details.