Japan's Buddhist temples target smoking
by Yasumasa Kanasugi, Yomiuri Shimbun, March 6, 2009
Tokyo, Japan -- An increasing number of famous temples that attract large numbers of visitors have banned smoking throughout their premises, echoing antismoking measures adopted by public facilities in recent years.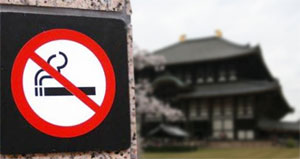 While some people welcome the bans, saying they are a sign of the times, others insist they are not in keeping with Buddha's teachings.
No-smoking signs are conspicuous at the Sotoshu sect's Koganji temple--popularly known as Toge-nuki Jizo-son--in the Sugamo district of central Tokyo. The signs can be seen at 11 locations within the temple's grounds, such as around the "Arai Kannon" statue, which visitors traditionally rub and splash with water.
Though many temples ban smoking inside buildings containing their main hall, Koganji temple's total ban has been in place for two years.
Everyone, including worshippers, priests and stallkeepers must comply with the rule.
When asked about the temple's policy during its Shinzanshiki ceremony to introduce a new chief priest held in November, Meiki Kuruma, who became the temple's chief priest in 2005, immediately replied "no-smoking." The ceremony is held for people who worship at the temple.
"Zen's benefits are ruined if you smoke," added Kuruma, 45.
When Kuruma first arrived at the temple, ashtrays were a common feature inside its grounds, except for the building housing the main hall. As such, visitors could smoke freely almost everywhere.
However, some of the temple's 8 million annual visitors would casually discard their cigarette stubs within the temple grounds, Kuruma said.
Kuruma formerly worked as a cardiologist. He said he could not allow smoking within the temple and removed all the ashtrays, declaring a total ban within the temple's grounds.
"This temple's main Buddhist deity is Jizo Bosatsu, to whom we pray for long life. Actions that shorten a person's life span aren't acceptable here," he said.
Many other temples across the nation also have imposed a total ban on smoking, including the Rinzaishu sect's Shofukuji temple in Munakata, Fukuoka Prefecture.
The temple's chief priest, Yodo Nomura, 66, was a smoker until his 30s.
But now he discourages the sect's followers from smoking. "Smoking is a transgression because it taints the body, the mouth and the mind," he said.
The Sotoshu sect's Chosenji temple in Kakuda, Miyagi Prefecture, imposed a total smoking ban several years ago. The temple's chief priest, Seiken Okuno, 54, also used to smoke.
"Buddhism teaches sympathy toward the weak. There's a kindergarten at our temple," Okuno said.
Antismoking advocates welcome the recent trend. Manabu Sakuta, president of the nonprofit organization Japan Society for Tobacco Control, said, "As many elderly people visit temples, it's a matter of course that such facilities are banning tobacco."
However, there are still some temples where smoking is permitted, with priests at such temples saying tobacco is not included among items banned at temples by Buddhist scripture. Such writings only state that people who have ingested alcohol or garlic are prohibited from entering a temple, as such items are said to disturb the human mind.
A spokesman for the Higashi-Honganji temple in Taito Ward, Tokyo, said that because Buddhism does not directly ban smoking, the temple bases it policy on natural trends in society.
Higashi-Honganji is the head temple of a sub-sect of the Jodo Shinshu sect.
The Sotoshu sect's Eiheiji temple in Fukui Prefecture also refuses to impose a no-smoking ban, saying the temple expects visitors to voluntarily refrain from smoking.
The Jodoshu sect's Chionin temple in Kyoto agreed that visitors' common sense was a factor.
These three temples have designated smoking areas inside their grounds.
However, Kuruma said: "Buddha lived in an age without tobacco. This is the reason [why Buddhism doesn't prohibit smoking]. As a doctor and priest, I'll continue to urge people to stop smoking."