Japan's new hi-tech 'graveyards'
By Roland Buerk, BBC News, Oct 12, 2009
Tokyo, Japan -- It is a problem faced by everyone in the end or by their relatives left behind - finding a place to spend eternity.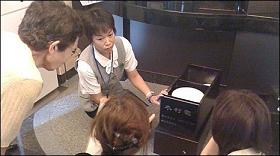 << Relatives can come and visit the ashes of their loved ones in the hi-tech grave
And in Japan, a crowded mountainous country with a fast-ageing society, there is a shortage of final resting places, especially in the big cities.
Burial plots in Tokyo can cost more than $100,000 (£63,318), so some are turning to a cheaper hi-tech solution - multi-storey graveyards.

From the outside, one such place looked rather like a block of flats - a grey building five or six storeys high but with few windows.
Inside, Buddhist monk Ryutoku Ohora chanted a prayer in front of an altar, dressed in black robes, sandals with wooden soles and a shawl embroidered with golden thread.
His tone was sombre, funereal even, but he was delivering a sales pitch for potential customers visiting the recently-built facility.
"With this kind of system we can store a lot of remains so you don't have to visit a graveyard far away," he said. "And it's convenient because it's beside the station."
"The cost will be half or a third of a normal graveyard in Tokyo, because we can store many remains compared to a normal graveyard so we can offer a reasonable price."
The vast majority of Japanese are cremated.
In a ceremony relatives collect the ashes, picking up pieces of bone with chopsticks, and placing them in a ceramic urn.
The remains are then buried, usually under a family tombstone.
But in the high-rise graveyard, the urns are stored on shelves instead.
One half of the building is a warehouse for the dead, filled from the ground floor to the shadows high above with row upon row of rectangular metal boxes.
"You can put ashes for two people in one box," said the monk. "So 7,000 people maximum in this space, [when] for a normal graveyard you would get 100 graves in this area [of land]."
A key selling point of the graveyard is that the ashes can be retrieved for loved ones to honour the departed.
Visiting bereaved families swipe a card in a reader attached to a computer to activate a robotic arm in the darkness of the vault.
It moves to the appropriate place on the shelves, picks up the box and delivers it to one of several mourning rooms.
Sombre music plays and photographs of the departed are displayed on computer screens.
Then a frosted glass screen slides back, revealing the box framed by a black marble tombstone set off with vases of flowers and a trickling water fountain.
Prospective customers seemed impressed with what they saw.
"Our family grave is outside and sometimes it rains and there's strong wind and you have to fix the graveyard," said Mikiko Takazawa, who was considering the vault as a final resting place for older relatives.
"This can be an option because it's inside and it's near the station as well."
"One of the things to consider is the price, it's reasonable," said Toshio Ishii, who at 82 years old was looking for his own grave.
"And I think it will be nice to be stored with other people. It's more fun, there'll be company."
The Japanese have turned to technology for solutions to many of the problems of life - and now death too.
Three hundred families have placed the ashes of their loved ones in the building so far.
With hi-tech graveyards being built across Japan it is no longer an outlandish option, and the monk expects that the remaining slots on the shelves will be occupied soon.