'China and Japan should work on translation of Buddhist canon'
Tibet Custom, June 25 2010
Kanazawa, Japan -- His Holiness the Dalai Lama on Tuesday suggested that Japan and China should think of translating Buddhist texts and commentaries preached by Lord Buddha and other learned spiritual masters into their own languages.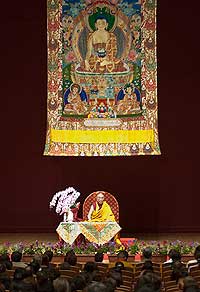 << His Holiness the Dalai Lama teaching Heart Sutra at Kanazawa in Japan, on 22 June 2010/
Photos by Tenzin Choejor/OHHDL
His Holiness said this while teaching Heart Sutra to over 2,000 devotees during a public teaching at Ishikawa Concert Hall.
Expressing his warm greetings, His Holiness said he feels comfortable in teaching Buddhism in Japan which is a Buddhist nation. "I get a feeling as if I am returning to you a part of your ancient tradition. This feeling is not so forthcoming in the West, because I feel every country needs to maintain their religion and culture," he said.
His Holiness reiterated his call for the need to become 21st century Buddhists. "Buddhism should not become a mere ceremonial exercise, we need to study and know the meaning of the scriptures we are reading. Heart sutra is an essential Buddhist teaching of Nalanda Sanskrit version of Mahayana tradition. So, it is important to know the full meaning of this teaching. Therefore, though my knowledge is limited, I have studied this sutra and I want to share with you all," His Holiness said.

During the Q&A session, a lady recounted her experience of her visit to Tibet where she witnessed how the Tibetans were very kind to all the living beings. Responding to her remarks, His Holiness said: "Tibetan culture is a culture of compassion. Peace and non-violence is the way of life in Tibet."
On being asked about how to lead a meaningful life, His Holiness said: "You should help other, if you cannot help, restrain from harming other and be honest."

Speaking on science and religion, His Holiness said Buddhism has the capacity to correspond with science, the fact widely recognised by many scientists. He said that even though science and religion have different approaches, both could contribute immensely for the promotion of peaceful world.

His Holiness will stay in Kanazawa till Thursday before departing for Tokyo.