Monk brings global view to Buddhism
By KRIS KOSAKA, Special to The Japan Times, Feb. 19, 2011
After 18 years as head of Zen monastery in U.S., Issho Fujita now provides help around world
Hayama, Japan -- At some point or another, a child nibbles at the world of questions: "Why are we here, where did we come from, how did the world start?"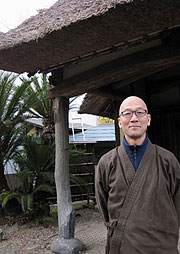 << News photo
Zen monk Issho Fujita poses in front of his home in Hayama, Kanagawa Prefecture. KRIS KOSAKA
Most children swallow down partial answers and move on to soccer balls or Barbie dolls, but for Issho Fujita, 56, a Soto Zen monk, these questions have shaped his entire life.
"At the age of 10, I had an unexpected spiritual experience. It is not easy to describe, since I had no vocabulary at the time to explain such an experience, but I was struck by a big question mark, about everything, the universe and myself, too. Many people do not stick with these questions for a long time, but these feelings guided me."
Fujita relates it to the first time he sat zazen, as a young graduate student at the University of Tokyo: "To experience sitting in darkness, in pain, really a kind of agony, it brought me back to that same feeling I experienced at 10 years old. Eventually, I decided to give away everything and pick up just one thing again, Zen practice."
Fujita gave away a promising career as a psychology academic at the age of 27, nearly complete with a Ph.D. in child psychology. Because of his fascination with questions, Fujita had enjoyed early success in academia: "I was first interested in natural science, the universe, how it started, how it operates, how it may end, and since I studied not because I was told to do so but because I wanted to know the answers, I naturally had a strong motivation, and it naturally led to good results."
Born in Niihama, Ehime Prefecture, Fujita attended a private high school in Kobe before he entered the University of Tokyo in 1972.
His curiosity for answers had, by then, turned inward. "As an adolescent, I discovered myself, who behaves and thinks in ways that do not obey my wish, so I became curious about myself. I shifted my interest from natural science, the outside world, to myself, the inside."
Although Fujita initially studied philosophy, he finally settled on something he calls "in between the universe and the self": psychology, focusing on the human mind.
After graduation, Fujita needed more answers, and thus enrolled in graduate school. Yet despite his academic success, something was missing, and through a chance meeting with an expert on Oriental medicine, Fujita discovered Zen.
"Acupuncture, Chinese herbs . . . I found it all fascinating, so I approached Shingu Ito (the late Chinese medicine practitioner and teacher at Hanazono University in Kyoto), and asked to be his disciple, to learn the philosophy and technique of Chinese medicine. But he advised me, 'My medicine is best on Zen. You must practice Zen.' "
Soon Fujita found himself practicing at various temples in Tokyo and Kamakura, Kanagawa Prefecture, commuting and struggling to keep up his studies. In 1981, he quit graduate school and entered Antaiji Temple in Hyogo Prefecture. He was ordained as a monk a year later.
After nearly 30 years as a monk, Fujita's days are still led by a strong curiosity for the world, but his questioning begins with Zen practice. He returned to Japan in 2005 after 18 years as the head of a Zen monastery in America, and Fujita sees his current work as an answer to one of the most basic questions of humanity: How do we reconcile the spiritual world with the demands and innovations of our modern world?
Ironically, Fujita's move to America first raised this fundamental point. "What I present as my understanding of Zen or Zen practice or Buddhism is a result of my experience in America, because it changed my perception or understanding of Buddhism very much."
After practicing at Antaiji for six years, Fujita was asked by the abbot to take over as head of Pioneer Valley Zendo, a sister temple of Antaiji established in 1976 in rural Massachusetts.
Part of his duties entailed teaching university courses on Buddhism and culture, and Fujita was forced to reconsider Buddhism from a different perspective.
"In the East Coast of America, New England, people are very interested in Buddhism. There are many Buddhist meditation centers, many colleges and universities have introductory courses, even Yale University has a graduate course in Buddhism."
Fujita never hesitated. From his second day in America he was asked to lead zazen meditation at a nearby university. It was 1987, Fujita was 33 years old, and after just six years as a practitioner of Zen he was now looked on as the leader or teacher of the way.
"It was a big responsibility. I had no experience to talk about Zen, even in Japanese, and now I had to talk about it in English. I read lots of books in English, so in a sense, I studied Buddhism all over again, but it was a great lesson for me."
Fujita thus learned to see Buddhism from an ever-widening perspective: "In Japan, people associate Buddhism with funeral ceremonies, memorial services, but in America, Buddhism is seen as a resource to live a happier, more meaningful life."
Fujita eventually acted as a Zen adviser to three different universities in the area, teaching courses like "Buddhism in American Culture," acting as a guest lecturer when professors discussed Zen, while also leading zazen meditation at Pioneer Valley Zendo and the surrounding areas.
Life as an American monk was not only focused on the spiritual, however: "I was called the 'handy-monk.' I did everything from painting houses, weeding, chopping wood to baby-sitting, unpacking shipments, harvesting blueberries."
Because Fujita was not paid for his spiritual activities, he supported himself, and later his family, with a series of odd jobs. Fujita welcomed the balance: "I enjoyed very much both my intellectual work and the physical work in America."
By 2005, Fujita felt it was time to return to Japan; his children had never experienced living in their home country and Fujita wanted to apply his new perspective on Buddhism back in Japan.
"People are not so different, in Japan or in America; they both need the same care. Buddhism was started 2,500 years ago in India; it has to be updated, particularly Japanese Buddhism. How to renew, revitalize Buddhism has become my personal and professional homework. How can people use Buddhism, how can they get benefit from it?
"Otherwise, Buddhism is just an antique in the museum showcase. It is happening now: A temple in Japan may function only as a place for a memorial service or for sightseeing."
Part of the answer, Fujita believes, is seeing Buddhism with a global perspective. "We have to go back to the original mission Buddha taught a long time ago, and learn how to make sense out of it, right now in this modern, unprecedented situation. I believe Buddhism still has the capacity to be useful, helpful, and applicable to modern society."
Appointed last year as director of the International Center of Soto Zen, based in San Francisco, Fujita now divides his time between the U.S. West Coast and Japan. His duties also require a lot of travel, visiting the different Soto Zen centers around the world.
"Last year I went to Europe and America, and this year I will travel to Brazil and Hawaii, because I need to know what is happening in Soto Zen in that area, and what they need or want me to do to help them."
Fujita also sees potential connections with the modern world and the spiritual with the ideas of "Applied Buddhism," something close to his former studies in clinical psychology.
"Therapists around the world are very interested in what Buddhism can reveal about the mind, the connections between Buddhism and psychotherapy. Researchers at MIT are studying Tibetan monks, but it is not only intellectual study; many of the therapists themselves are practicing Buddhist meditation."
Fujita also sees changes in Japan, as more foreign monks visit. When Thich Nhat Hanh, the internationally renowned Zen monk, toured Japan in 1995, Fujita acted as one of his interpreters. He later translated his book, "Zen Keys," into Japanese. He is currently translating another of Hanh's works, "Opening the Heart of the Cosmos," as well as writing his own book on zazen. He frequently acts as a liaison between visiting monks and their Japanese counterparts, and notes that the current abbot of Antaiji is a German national.
Fujita recently taught a course through Waseda University's Extension Department, "Buddhism and Psychology," quickly filling the quota of students for both semesters. Fujita believes Buddhism "still makes sense" around the world. "Some of the terms are archaic, but if someone can articulate the content, people are still interested."
Whenever he is in town, Fujita leads zazen meditation each week on Sundays and Mondays near his home in Hayama, Kanagawa Prefecture. Wherever life takes Fujita next, he will surely keep his questioning, open mind: "I want to keep myself open to the exciting invitations for the future. I do not want to close myself off, but always keep an open-handed attitude.
"I think that is an essence of Zen, to keep ourselves open to unexpected invitations. We are always invited to renew ourselves, but most of us are not mindful enough and we keep missing those invitations. We must be careful and mindful to truly see what is going on, not through a narrow view, but a more open, panoramic view, so that we can hear the voice of invitation."