'Stand-off' at Tibetan monastery in Sichuan, China
By Michael Bristow BBC News, 14 April 2011
Beijing, China -- There are reports of a stand-off between Chinese security forces and residents outside a Tibetan Buddhist monastery in Sichuan province.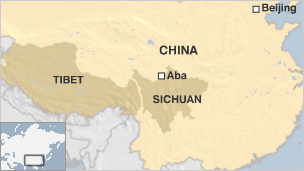 Local residents were reportedly trying to prevent police from detaining monks inside the Kirti monastery.
The area has been tense since last month, when a monk died after setting fire to himself.
Chinese officials have declined to comment so far. The area has previously seen other anti-government protests.
Pro-Tibetan groups report a deteriorating security situation in Aba County, known as Ngaba in Tibetan, where the monastery is based and where there are many ethnic Tibetans.
They report an increased military build-up, although it is difficult to independently verify these accounts.
Appeal for calm
The International Campaign for Tibet, based in the US, said ordinary Tibetans began gathering outside the monastery a few days ago when the authorities announced that monks would be taken away for re-education.
"We have been told that the police have cordoned off the monastery and the community, in order to prevent monks being detained, surrounded the police," said Thubten Samphel, spokesman for the Tibetan government-in-exile.
The chief monk at Kirti's sister monastery in Dharamsala in India, where many exiled Tibetans live, has appealed for calm on all sides.
But he criticised the Chinese government for its approach in administrating Tibetan areas.
"It must be realised that the people cannot be controlled merely through economic growth and state propaganda," he said in a statement.
Not all Tibetans, including those living inside China's Tibetan Autonomous Region and other provinces, agree with how Beijing governs their regions.
Three years ago there were a series of anti-Chinese riots and protests across these areas. The Chinese government sent in its security forces to put them down.
But much of the animosity seems to remain. Some Tibetans believe that their culture is under threat because of the immigration of Han Chinese into their areas.
Last month a young monk died after setting fire to himself at the Kirti monastery, in what has been described as a protest against the Chinese government.
Beijing admitted that the event had taken place, but it has so far declined to comment on this latest incident.
A foreign ministry spokesman said on Thursday that he had no knowledge of the developments in Aba.
But he added that Beijing's policies in the region were "well received by local people".
"Over the last three decades Tibet has enjoyed remarkable development - as good as the rest of the country in terms of economy and society," he said.