China denies Tibetan monastery lock-down
BBC, 19 April 2011
Beijing, China -- China says the situation is "normal" at a Tibetan Buddhist monastery in south-west China which campaigners say has been sealed off by police.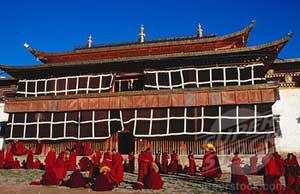 A Foreign Ministry spokesman said relations between monks at the Kirti monastery in Sichuan province and police were "harmonious".
Campaigners and Tibetan exiles say the monastery has been surrounded by security forces for several days.
The area has been tense since a monk set himself on fire and died in March.
The monastery, which houses some 2,500 monks, is in Aba county, an area of Sichuan province with many ethnic Tibetans.
It is extremely difficult to independently confirm any information coming out of Tibetan areas. China's authorities have restricted access to the region.
In March 2008 Beijing admitted police had shot four protesters in Aba as anti-China demonstrations erupted in Lhasa and ethnic Tibetan communities across the Tibetan plateau.
Campaigners said more protests took place there a year later after a monk set himself on fire in an apparent anti-China protest, a claim China denied.
'Normal life'
Tibetan exiles and campaigners said last week that local people had gathered at the monastery after security forces came to take the monks away for "re-education", following the self-immolation of a 21-year-old monk on 16 March.
Police had then locked down the monastery, they said.
But Chinese Foreign Ministry spokesman Hong Lei denied reports of tensions.
"According to our knowledge, the monks in the Kirti monastery enjoy a normal life and normal Buddhist activities, and the local social order is also normal," he said.
He said that the monks had "sufficient" supplies and that while measures were in place to "prevent unidentified people from entering", relations between the monks and police had "always been harmonious".
On Saturday the Dalai Lama called on local people to prevent any escalation of the situation, warning of "catastrophic consequences".
"I urge both the monks and the lay Tibetans of the area not to do anything that might be used as a pretext by the local authorities to massively crack down on them," he said.
The US has also urged China to end what it called an action "inconsistent with internationally recognised principles of religious freedom and human rights".
Mr Hong called on the US to stop making "irresponsible remarks".