Shaolin Temple deny abbot caught with prostitute
By Gao Qihui, China Daily/Asia News Network, May 11, 2011
Beijing, China -- The Shaolin Temple's 30th abbot, Shi Yongxin, has been involved in an online rumor claiming that he was caught soliciting a prostitute by police.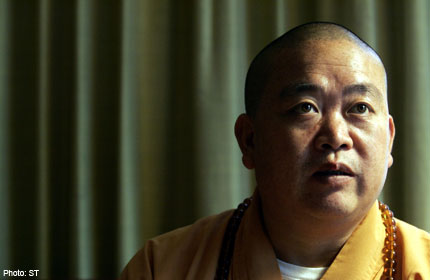 Shi is the temple's 30th abbot and is known as the "CEO of Shaolin" for his pursuit of commercial development since taking over as abbot a decade ago.
The temple said in a statement posted on its website on Sunday that the rumors were vicious libel that hurt the feelings of Buddhists and tarnished the reputation of both the Shaolin Temple and the abbot.
"Shaolin Temple and Abbot Shi feel deeply sorry for this and reserve the right to take legal action," the online statement said.
"As the rumors are very vicious libel, the temple is forced to publish such a statement," the head of Shaolin Temple Communications Office, Zheng Shumin, was quoted as saying on Tuesday by dahe.cn, based in Henan province, where Shaolin Temple is located. Shi, the 46-year-old abbot, will not respond to the rumors, said Zheng.
Qiang Daliang, general manager of Shaolin Intangible Assets Management Center, said "it will depreciate ourselves if we make too many explanations." If it is time for the abbot to come out, he will, Qiang added.
Zheng also denied the rumor circulating on the Internet, saying that the abbot visited the prostitutes to bless them.
There are more than 170 surveillance cameras installed at Shaolin Temple, making it easy to confirm whether the abbot is inside the temple, said Zheng.
The abbot's schedule is also published on its website and it is available for public viewing, said Zheng. The abbot met with visitors from The Guardian on May 7 and 8, Zheng added.
The abbot does not need to respond, as this is a very extreme case, said Qiang. "Ordinary people with common sense will not question it."
Police in Central China's Henan province said Tuesday that they are investigating the online rumors.
The Buddhist temple, which is a UNESCO world heritage site and the birthplace of kung fu, reported the case to police on Monday and said the rumours are false.