Tibetan monks face murder charges over 'fire protest' death of 16-year-old
Associated Press, Friday 26 August 2011
Official news agency says three men face two-day trial after monk set himself on fire at Buddhist monastery

Sichuan, China -- Chinese authorities have arrested three Tibetan Buddhist monks claimed to have links with the self-immolation of Phuntsok, who burned himself to death last March in protest at the Chinese occupation of Tibet.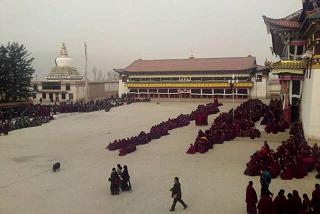 Beijing accuses the three monks of the 'intentional killing' of Phuntsok. The authorities also arrested another three monks in Tawu county of Kham, eastern Tibet, according to the Tibetan Human Rights group.
Authorities in Beijing claim that two of the monks are to be charged for "plotting, instigating and assisting in the self-immolation of Phuntsok". The third is accused of moving and hiding the monk for 11 hours, which authorities claim prevented him from receiving medical treatment and led to his eventual death.
According to Chinese state controlled agency Xinhua, the three monks; Tsering, Tengyam and Dhondup will stand trial on Monday 29th August and Tuesday 30th, 2011.
However, there is no confirmed report from Tibet's side, whether the arrested monks were related to the case of late Phuntsok, a 20-year old monk from Kirti Monastery Ngaba county of Amdho, eastern Tibet, self-immolated to protest against Chinese rule. "We do not have a confirmed report right now. But, we're currently investigating the new reports, whether it was related to the late Lobsang Phuntsok's self-immolation," Ven. Kanyak Tsering, India based Kirti Monastery told The Tibet Post International.
Because of the prohibition of foreign journalists in Tibet, conflicting reports have arisen since the immolation of Phuntsok on Wednesday 16th of March, 2011. While authorities in China maintain that monks forcibly moved the monk out of a nearby hospital and into Kirti Monastery, Tibetan rights groups highlight that Chinese police put out the flames, then beat the monk to death.
The death of Phuntsok, who was in his early 20s, and a Buddhist monk of Kirti Monastery in Ngaba province, Eastern Tibet, sparked a wave of human rights abuses in the region against Tibetans, and led to an international outcry on the worsening human rights situation in the region. Eastern Tibet, and particularly Kirti Monastery, witnessed unprecedented military crackdowns, including a 're-education programme' for the inhabitants of the monastery.
The disturbing news of the three arrested monks comes amid growing concern for the human rights of Tibetans in Tibet. Last week, 29 year old Tsewang Norbu self-immolated in a nearby region of Kham Provence, eastern Tibet. The situation at Kirti Monastery remains tense and is under a heavy military presence from Chinese authorities.
Chinese authorities arrested another three Tibetans just days after a 29 year old Buddhist monk Tsewang Norbu of Nyatso Monastery in Kham Tawo, eastern Tibet, self-immolated to protest against Chinese rule, according to a report of the Dharamshala based Tibetan Center for Human Rights and Democracy. "The three Tibetans – Norbu, Gyaltsen and another unidentified man - were arrested separately by officials of Public Security Bureau in Tawu County in Kardze county of eastern Tibet (Ch: Sichuan Province)," it said.