China convicts monk of murder over self-immolation
M&C, Aug 29, 2011
Beijing, China -- A court in south-western China on Monday convicted a Tibetan Buddhist monk of murder and sentenced him to 11 years in prison following the death of a younger monk who set fire to himself to protest Chinese rule.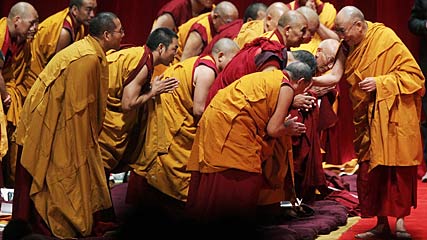 The court in Sichuan province convicted Drongdru, a monk from the Kirti monastery, of 'intentional homicide' over the death of the monk in March, the official Xinhua news agency quoted a court statement as saying.
Drongdru, 46, was convicted because he 'hid the injured monk and prevented emergency treatment, causing the 16-year-old's death due to belated treatment,' the court said.
The monk who died, Rigzin Phuntsog, was a 'disciple and nephew of Drongdru,' it said.
The court said it planned to try two other Kirti monks, Tsering Tenzin and Tenchum, on Tuesday for 'instigating and assisting in the self-immolation of fellow monk Rigzin Phuntsog.'
Drongdru pleaded guilty to murder, expressed regret and requested leniency. He told the court that he did not plan to appeal Monday's verdict, the agency said.
Another Tibetan monk, Tsewang Norbu, died following a similar self-immolation protest near Sichuan's Nyatso monastery on August 15.
London-based Free Tibet quoted witnesses as saying Tsewang Norbu, 29, shouted, 'We Tibetan people want freedom' and 'Long live the Dalai Lama.'
Both protests prompted crackdowns on the monasteries by Chinese security forces, with rights groups reporting the detention of dozens of monks, nuns and lay Tibetans.
Rights groups said another monk from Kirti, identified only by the name Tapey, set himself alight in Sichuan's Ngaba town in February 2009 to protest authorities' restrictions on celebrating a Tibetan Buddhist prayer festival.
The Dalai Lama, Tibetan Buddhism's highest spiritual leader, has lived in exile since he fled to India in 1959 following a failed uprising against Chinese rule of Tibet.