Chinese town under siege as Tibetan monks protest
by Robert Saiget, AFP, Oct 19, 2011
ABA TOWN, China -- Police in full riot gear carrying automatic rifles and iron bars stand guard outside a huge Tibetan monastery in southwest China, the scene of a series of self-immolations by Buddhist monks.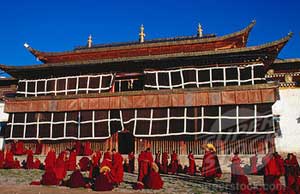 << Kirti Monastery
The residents of the Kirti monastery - one of the most important in Tibetan Buddhism - have been living under these siege-like conditions since a young monk set light to himself in protest at religious repression in March and died.
Since then, rights groups say five monks have burned themselves to death at the monastery in the small town of Aba, where a Buddhist nun this week became the first woman to self-immolate in a dramatic escalation of the protests.
Hours after the death of the nun Tenzin Wangmo on Monday, two AFP journalists gained rare access to the town in Sichuan province, high on the Tibetan plateau and famous for its centuries-old Buddhist temples.
Rights groups say nine monks and nuns have now set themselves alight in Sichuan and surrounding areas, with Aba town and the Kirti monastery becoming a flashpoint for the mounting anger at the erosion of Tibetan culture.
Police, many carrying riot shields and armed with clubs and iron, lined the streets of the town, which has a population of around 20,000 mainly ethnic Tibetans who say their culture is being eroded by China's government.
Large groups of soldiers in camouflage carried automatic rifles, metal rods with spiked tips and fire extinguishers, while police buses, trucks and armoured personnel carriers blocked the streets.
Shops and restaurants remained open and people went about their daily business on the streets of Aba, but police were checking all vehicles moving in and out of the town, slowing traffic through the main street to a crawl.
AFP's reporters were unable to gain access to the Kirti monastery, but saw large groups of police stationed outside the sprawling complex, as red-robed monks walked around inside.
Campaign groups Free Tibet and the International Campaign for Tibet (ICT) say there used to be more than 2,000 monks living in the monastery, but the number has now dwindled to fewer than 1,000.
They say that in recent months hundreds of monks have left the monastery, some of them taken away by authorities to undergo compulsory "patriotic re-education" programmes, and that the recent spate of self-immolations is a sign of the desperation they feel.
Many Tibetans in China are angry about what they see as growing domination by the country's majority Han ethnic group.
The latest government crackdown in the area was sparked by the death in March of Phuntsog, a young Kirti monk who set himself on fire on the third anniversary of anti-Chinese riots that shook Lhasa in March 2008, the bloodiest in Tibet in 20 years.
His death sparked mass protests in Aba and the surrounding area, known as Aba county.
Last month, China jailed three monks for between 10 and 13 years for helping Phuntsog to burn himself to death, sparking an international outcry.
Few, if any, foreign journalists have gained access to the town since then and AFP's reporters were briefly detained by police, who confiscated one camera and deleted photographs of police and the military presence.
"You can take pictures of all the scenery you want, but you cannot take pictures here," one policeman said. "You are free to leave. You must not stop until you have left (Aba) county."