In China, self-immolations add radical bent to Tibetan protests
By Barbara Demick, Los Angeles Times, October 23, 2011
Nine suicides by young Buddhists in Sichuan province have unnerved the Chinese government and given momentum to the Tibetan movement.
Beijing, China -- Shopkeepers peer out from storefronts festooned with traditional Tibetan prayer flags at platoons of armed police, some carrying an unusual addition to their riot regalia: fire extinguishers.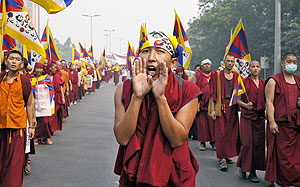 << Tibetan people in New Delhi rally to express solidarity with Buddhists in Tibet. (Tsering Topgyal, Associated Press / October 23, 2011)
A string of self-immolations by young Buddhist monks in Sichuan province is unnerving the Chinese government and giving a new, more radical momentum to the Tibetan protest movement.
On Monday, the ninth young Tibetan — and the first woman — killed herself in the small town of Aba by self-immolation in a protest against Chinese rule. She was identified by Tibetan exile groups as 20-year-old Tenzin Wangmo, a Buddhist nun.
A 19-year-old monk had set himself on fire two days earlier in the same town, which is near the Kiriti monastery, one of the largest Tibetan centers in China and the center of the recent unrest. In both cases, the monks shouted slogans calling for freedom of religion and the return of the exiled Dalai Lama to Tibet.
The self-immolations have set off a cycle of martyrdom and protest, inspiring demonstrations from New Delhi to Taipei. Tibetan blogs have filled with poems to the dead. The Dalai Lama, who lives in Dharamsala, India, led a day of prayer and fasting Wednesday.
In a panic, Chinese authorities have blanketed Aba with heavy security. Rare footage taken last week by Agence France-Press showed the streets brimming with riot police.
Tibet analysts say China's heavy hand is unlikely to stop the wave of immolations.
"There is a copycat dimension to this," said Dibyesh Anand, a Tibet expert at the University of Westminster in London. "'If I immolate myself, my friends are under pressure to do the same to show they are just as patriotic.'"
The ritual suicides, he added, are a sign that young Tibetans are moving away from the Dalai Lama's teachings about nonviolence.
"He has always said that people should not harm themselves or others," Anand said. "People respect him, but they are frustrated and they want to protest."
Tibetan activists see parallels with the aggrieved Tunisian fruit vendor who set himself on fire last December to protest corruption, setting into motion the "Arab Spring" protests that have dislodged leaders in three countries.
"The self-immolations of the eight young monks were revolutionary acts of ultimate sacrifice to rouse the Tibetan people to action, in much the way as Mohammad Bouazizi's self-immolation woke up the oppressed people of the Middle East from many, many decades of fear, apathy, cynicism and weariness," Jamyang Norbu, a prominent Tibetan radical, wrote on his blog this month.
Among Tibetan Buddhists, self-immolation had been unheard of before 2009 and until this year was very rare.
Relations between Tibetan and Chinese authorities in Sichuan province, which abuts the Tibet Autonomous Region, had been relatively calm until a few years ago. Tibet experts say the change came about because of attempts by the authorities in Beijing to intervene in religious affairs, forcing monks to attend "patriotic education" classes where they study communism and renounce the Dalai Lama.
In response to protests in the monasteries, authorities have at times cut off water and electricity and installed police booths inside the monasteries, said Robert Barnett, a Tibet scholar at Columbia University.
"These provocative police tactics have been counterproductive," Barnett said.
Of the monks who have set themselves on fire, all are believed to have been under 24. Several were related. Some had been kicked out of monasteries by Chinese authorities for participating in protests, experts say.
"They are not trained to do anything but to be monks or nuns," Anand said. "If they don't give them any jobs or hope, they are radicalizing them unconsciously."
Chinese Foreign Ministry spokeswoman Jiang Yu said Thursday that authorities were maintaining "normal social order" in Sichuan.
"China firmly opposes ethnic separatism, will resolutely protect national sovereignty and territorial integrity, and firmly oppose any country using the excuse of the so-called Tibet problem to interfere in China's internal affairs," Jiang said at a briefing in Beijing.