India to build Buddhist temple in China
Kerala Next, April 15, 2005
Zhengzhou, China -- An Indian style Buddhist temple will come up in central China's Henan province as part of efforts by two countries to carry forward their Buddhist cultural links. The two governments signed an agreement on construction of the temple during Chinese Prime Minister Wen Jiabao's April 9-12 visit to India. The temple will come up on the western side of the White Horse Temple in Luoyang, Henan province, Xinhua said.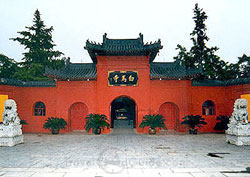 << Baima temple, Luoyang, China
The memorandum of understanding on construction of the temple was included in the joint statement of the two countries, which was signed by Wen his Indian counterpart Manmohan Singh. According to the agreement, India will fund the construction and provide the main architectural design of the temple project, its blue print, materials to be used and the landscape planning. On completion, India would also provide the Buddha idol and other accompanying materials.
China would provide 2,667 square metres of land for the temple and offer support and advice on construction. Situated in the fertile valley of the Yellow River, Henan today is China's most populous province with over 95 million residents.
Officials from the two governments will begin discussions on details of the project soon, said an official at the Indian Embassy in Beijing. Ma Jinyong, director of the Religious Affairs Bureau of Luoyang, welcoming the temple, said China and India shared a long history in Buddhist cultural exchanges and this temple would be an important symbol of enhanced exchanges of Buddhist culture between the two countries.
Ma said the White Horse Temple, or Baimasi in Chinese pinyin, was an important witness of Sino-Indian friendship and Sino-Indian Buddhist cultural exchanges that have been further enhanced since the 1990s. Shi Yinle, abbot of White Horse Temple, said construction of the new temple was an important and happy event as Buddhism had been introduced into China from India from the Whit Horse temple. The idea to construct an Indian temple in the White Horse Temple complex was mooted by former Indian prime minister Atal Bihari Vajpayee, who came to Luoyang in 2003.
The White Horse Temple dating back over 1,900 years was the first Buddhist temple in China. The first residents in the Temple were two Indian Buddhist monks Kasyapa Matanga and Dharmaranya. Indo-Asian News Service