China targets India for Buddhist monks' stir in Sichuan
by Indrani Bagchi, TNN, Dec 8, 2011
NEW DELHI, India -- Rattled by a seemingly unending stream of self-immolations by young Buddhist monks in Sichuan, China, the Chinese authorities are blaming the Tibetan government-in-exile in India as well as what they call overseas organizations, press and media institutions.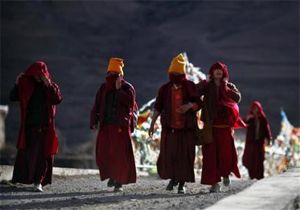 << Rattled by self-immolations by Buddhist monks in Sichuan, Chinese authorities are blaming the Tibetan government-in-exile in India
Self-immolations by monks could be one of the reasons for China to become more sensitive than usual to the Dalai Lama and the unusual pressure on India to restrict the Tibetan spiritual leader's movement.
A commentary in the official Xinhua News Agency this week reflected the growing anger over the protests by monks, and annoyance with India for not clamping down on Dalai Lama. "Besides the mastermind behind the self-immolations, the instigation by some overseas organizations, press and media institutions, the 'living Buddha' and politicians also played a part."
Chinese government called off boundary talks with India, after New Delhi refused to prevent the Dalai Lama from addressing a global Buddhist congregation. No fresh dates have been set yet by either side. The Chinese followed this up by asking West Bengal governor M K Narayanan and chief minister Mamata Banerjee to stay away from a Dalai Lama event in Kolkata last week. Startled on both occasions, the Indian government has pushed back vigorously against Chinese pressure. China is stretching the notion of what is "anti-Chinese" - by its current reckoning, every activity which includes the Dalai Lama, is, by definition, anti-Chinese.
But by these actions, New Delhi believes Beijing is changing the field of play - in all these years, China's problems with the Dalai Lama were reasonably insulated from its dealings with India. The continuing immolations, especially coming just ahead of a politically fraught leadership transition, appear to have prompted Beijing to cast the net wide - reaching for the "foreign hand". China analysts here believe Beijing's response to New Delhi may become more shrill and even condemnatory and could risk bilateral ties.
The living Buddha is known as Kirti Rimpoche by Tibetans here. He belongs to the Kirti monastery in Sichuan, having fled to Dharamsala in 1959 and has been a close associate of the Dalai Lama. The Kirti monastery has been the scene of many of the immolation bids by Tibetan monks in recent months. About 11 immolations have occurred in the Sichuan province since March, while reports of the 12th incident came in from the Tibetan Autonomous Region (TAR).
The Xinhua commentary said, the immolations were meant to mar normalcy and the people's aspirations for stability, peace and welfare. "The monks will not be monks if they do not abide by Buddhist precepts, and monasteries will not be monasteries if they interfere with politics. Tibetan Buddhism is worried about whether it has been tarnished by these people," he said.
China has spent billions in development of TAR, even sending Han Chinese to Tibet to tilt the demographic balance and resorting to hard-line crackdowns during riots and other incidents. "It doesn't seem to be working," Indian officials tracking China observed.