China raises security in Buddhist monasteries, on roadways to prevent spread of Tibet protests
Associated Press, Feb 2, 2011
BEIJING, China -- A senior official in Chinese-ruled Tibet is ordering heightened security in Buddhist monasteries and along key roadways as the government tries to prevent protests that erupted in neighboring Tibetan communities from spreading.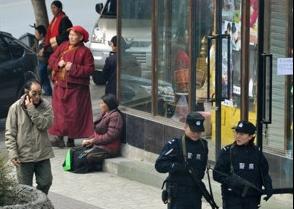 << (Kyodo News / Associated Press ) - Armed Chinese police officers patrol a Tibetan area of Chengdu in China's Sichuan province, neighboring Tibet, Tuesday, Jan. 31, 2012. Tibetan areas in Sichuan, on tenterhooks for more than a year as more than a dozen monks, nuns and lay people separately set themselves on fire to protest Chinese rule, saw large demonstrations last week.
Inspecting security around the Tibetan capital of Lhasa this week, the city's Communist Party secretary, Qi Zhala, warned officials and clerics at monasteries that they would be dismissed if any trouble arose and told police at a highway checkpoint to be alert for acts of sabotage.
Officials "must profoundly recognize the important significance of preserving stability in temples and monasteries," the state-run Tibet Daily on Tuesday quoted Qi as saying Monday. "Strive to realize the goal of 'no big incidents, no medium incidents and not even a small incident.'"
The exhortations underscore China's nervousness as it tries to squelch the most serious outbreak of anti-government protests among Tibetans in nearly four years.
Tibetan areas in the neighboring province of Sichuan — on tenterhooks for more than a year as more than a dozen monks, nuns and lay people separately set themselves on fire to protest Chinese rule — saw large demonstrations last week.
Tibet support groups outside China said police fired on crowds in three separate areas, killing at least five Tibetans and injuring dozens. The Chinese government said violent "mobs" attacked police and civilians, and officers used force to restore control. It said several officers were injured in the violence.
The violence has highlighted anew the government's failure to win over Tibetans and other ethnic minorities through policies to boost economic growth and incomes while increasing police presence and controlling religious practices to deter displays of separatism. State media announced Monday that 8,000 additional police were being recruited in Xinjiang, a traditionally Muslim region north of Tibet that has its own separatist rebellion.
Before the latest protests, Chinese security forces were already hunkering down for an annual period of tensions in Tibetan areas: the weeks between the Tibetan new year, which this year falls in late February, and a string of anniversaries in March marking previous anti-Chinese uprisings.
A crucial task for the government is to keep the protests in Sichuan from spilling into Tibet proper, especially Lhasa, home to major monasteries that have been at the forefront of previous unrest. In 2008, rioting in Lhasa left at least 22 people dead.
Among the stops Qi, the Lhasa official, made on his inspection tour was a key roadway leading from Sichuan into the capital and two major monasteries on the city's outskirts.
Qi spoke with members of the monasteries' management committees. The committees are comprised of officials and clerics that Beijing has set up in Tibetan religious institutes to purge them of followers of the Dalai Lama, the Tibetan leader in exile in India. The groups and their controls have contributed to the tensions behind the protests.
"They who do not do their jobs responsibly, if any problems happen, will be fired immediately without exception and will be strictly held accountable," Qi was quoted as saying.