Tibetans in China mark new year with sombre defiance
Reuters, 22 February 2012
Losar celebrations quieter than usual after call for Tibetans to shun festivities and pray for those who suffered under Chinese
Langmu, Tibet (China) -- Tibetans in north-west China have marked a tense traditional new year with prayer, the sounding of a gong and subdued defiance, in the wake of a string of self-immolations and protests against Chinese control.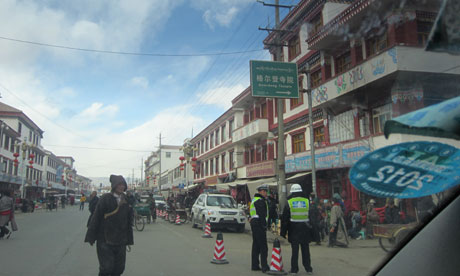 << Chinese security presence has been heavy in Tibetan areas of Sichuan such as Aba, which is near the Kirti monastery. Photograph: Jonathan Watts for the Guardian
The traditional new year, or Losar, is a combination of Buddhist ceremony and family celebration observed across the Tibetan highlands of western China.
But this year, unrest has overshadowed the celebrations and there has even been a call from an exiled Tibetan leader for people to shun festivities and instead pray for those who have suffered under Chinese rule.
At least 16 Tibetans are believed to have died after setting themselves on fire in protest since March, most of them Buddhist monks in Tibetan parts of Sichuan and Gansu provinces.
The heavy security in many areas and widespread Tibetan resentment at the Chinese government presence in Tibet could trigger further unrest as sensitive anniversaries and warmer weather approach.
At the Kirti monastery in Langmu, a town straddling Gansu and Sichuan, hundreds of Buddhist monks gathered on Wednesday to chant prayers while a large gong rang twice a minute to mark the new year.
"Life is full of this pressure here. With the Dalai Lama in India and us here, it is very painful for us," said Jiata, a 51-year-old Tibetan herder who had come to watch the ceremony.
The Kirti is a smaller offshoot of a monastery in Sichuan that has been at the centre of confrontation between the Chinese government and Tibetans.
Authorities have blamed supporters of the Dalai Lama, the exiled Tibetan spiritual leader, for fomenting defiance.
"The government controls everything we think. They say we have freedom to think as we like, but we don't," said the Jiata.
In Langmu, police and security forces stayed in the background. But some Tibetan areas have faced heavy police controls as authorities seek to deter fresh protestsleading up to 10 March , the anniversary of the 1959 uprising against Chinese rule that ended with the Dalai Lama fleeing into exile.
Lobsang Sangay, prime minister of the Tibetan government-in-exile in northern India, this week urged Tibetans not to celebrate Losar, and instead to pray for those "who have sacrificed and suffered under the repressive policies of the Chinese government".
Labrang, a heavily Tibetan part of Gansu, and home to a large monastery, was calm on Wednesday.
"This year, celebrating new year won't be as good as last year. Why? You know why. The Communist party is putting a lot of pressure on us Tibetans," said a resident who declined to be identified.
"But we have no plans to do anything different. There won't be any protests. Protest, and people get shot."
The Dalai Lama has blamed the self-immolations on "cultural genocide" by the Chinese, and has not directly called for them to stop. But he has long denied Chinese accusations that he incites violence and wants fully fledged independence.
The Chinese premier, Wen Jiabao, said last week the self-immolations were extreme acts to undermine stability in the region and had no popular support, the highest-level comments since increased tension in January.
The government has branded the immolators terrorists.
"Since last year, there have been individual incidents of self-immolation in Sichuan and other Tibetan regions, and we are pained at these deaths," a foreign ministry spokesman, Hong Lei, told reporters on Tuesday.
"According to what we know, many of these self-immolations are directly connected with the Dalai clique's inciting of popular feelings overseas."
Advocacy groups say as many as seven Tibetans were shot dead and dozens wounded during protests in January. China's official Xinhua news agency said police fired in self-defence on "mobs" that stormed police stations.
The official Tibet Daily said on Tuesday that a senior Communist party official had visited monasteries in the Tibetan capital, Lhasa, and asked people there to "make contributions" towards stability in the new year.