Beijing orders Tibetan detentions after India pilgrimage
by Edward Wong, Sydney Morning Herald, April 9, 2012
Beijing, China -- HUNDREDS of Tibetans who attended an important Buddhist ceremony earlier this year in India have been detained without charge by Chinese security officers on their return to Tibet.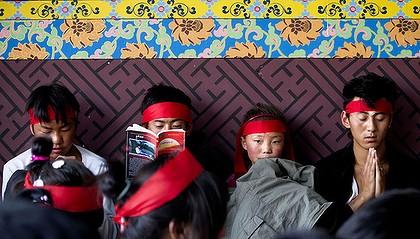 << Exiled Tibetans attend a religious ceremony at the Chime Gatsal Ling monastery in Dharamsala, India. Photo: AP
According to family members and human rights groups, this is the first time that Chinese authorities have detained large numbers of Tibetan pilgrims returning from the January ceremony, held every year in northern India.
Many of the pilgrims are elderly and have been detained for more than two months in central Tibet, or what China calls the Tibet Autonomous Region. The detainees are being interrogated and undergoing patriotic re-education classes, and have been ordered to denounce the Dalai Lama, who presided over the ceremony, known as the Kalachakra, say people who have researched the detentions.
The detainees are being held at hotels, schools and military training centres or bases; some are being forced to pay for their lodging and meals.
The detentions are expected to stoke resentment among Tibetans towards the Chinese government at a time when tensions across the Tibetan plateau are at the highest in years.
The pilgrims were detained at checkpoints while returning overland via Nepal or while flying into Lhasa, the Tibetan capital. Some have been released, and many who were held in central Tibet but are registered as residents in other regions have been sent to those areas, according to researchers, who interviewed released detainees and their friends and relatives.
The Kalachakra ceremony, an important teaching ritual in Tibetan Buddhism, takes place every winter in Bodh Gaya, the site in the Indian state of Bihar where the Buddha is believed to have attained enlightenment.
The Dalai Lama travels there from his home in the Himalayan hill town of Dharamsala to give teachings, and Tibetans and other Buddhists from around the world attend.
Human Rights Watch said it was unclear how long the detainees were being held, and that there had been no reports of any of the 700 Han who attended the Kalachakra being detained. The Han are the dominant ethnic group in China,
Calls to Chinese authorities in Beijing went unanswered.