Bogus Buddhist monks exposed on the Internet
France24, Apr 13, 2012
Beijing, China -- Two men clad in traditional orange Buddhist robes have been spotted in the streets of Beijing hanging out with their girlfriends and downing cans of beer, raising more than a few eyebrows.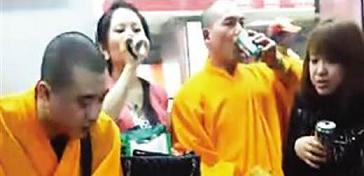 << The two "monks" in a hotel with a pair of lady friends.
The two men had apparently developed a taste for going out dressed as Buddhist monks, and even created a Weibo account (the Chinese equivalent of Twitter) where they posted a photo of them holding prayer beads and smiling at the camera.
Their behaviour intrigued a fellow-Chinese Web user, who discreetly filmed the pair and posted several videos of them online. In the footage, they can be seen drinking beer and talking loudly in the subway, accompanied by two girls who they seem to know on an intimate basis.


On April 7, a man who had seen their photos online spied the two imposters in a hotel. They were attending a religious convention at the Fayun Si temple, Beijing's largest Buddhist temple. When they realised they had been spotted, the two men hid in the bathroom to change their clothes. But when they came back out, about two dozen monks – real ones this time - were waiting for them. When the duo proved unable to recite Buddhist scriptures or show their religious certificate, they were handed over to the police.
A Beijing newspaper later identified the men as musicians Zhao Wenbo and Ren Chuankun. Police, who say they are investigating the incident, have reportedly held the pair for the last five days without giving an official explanation for their arrest.
In China, swindling operations organised by fake monks are relatively common. Men usually pose as monks from the country's famous Shaolin temple and sell fake traditional medicines or ask for donations. According to Chinese media, some of these imposters can earn up to 20,000 Yuan per year (around 2,500 euros) – more than double the median income of Chinese factory workers.

Spokespeople for the association of Chinese Buddhists said these occurrences seriously damaged the reputation of their religion, and demanded that the imposters be severely punished.