3rd World Buddhist Forum opens in Hong Kong
China.org, Apr 26, 2012
Hong Kong, China -- The Third World Buddhist Forum, the largest international Buddhist conference ever held in Hong Kong, opened on April 26, 2012.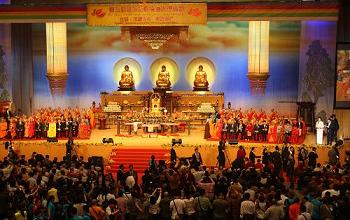 At the beginning of the opening ceremony, led by President of the Hong Kong Buddhist Association Kok Kwong, President of the Buddhist Association of China Chuan Yin, the 11th Panchen Lama, Bainqen Erdini Qoigyijabu, all the participants, together with thousands of monks and Buddhist believers, bowed three times to the statue of Lord Sakyamuni Buddha and chanted the Heart Sutra, one of the most well - known Buddhist scripture.
The 11th Panchen Lama Bainqen Erdini Qoigyijabu, one of the two most senior living Buddhas in Tibetan Buddhism, delivered a keynote speech at the forum.
"The virtuous Buddha compassionately and skillfully opened the door to the Dharma, pointing out for us the way to choose between wholesome and unwholesome acts," said the 22-year-old Panchen Lama.
China's top political advisor Jia Qinglin congratulated the opening of the forum in a letter which was read out to the attendees by Zhu Weiqun, deputy head of the United Front Work Department of the Communist Party of China (CPC) Central Committee.
During the two-day event, eminent monks, well-known scholars from home and abroad, including the Republic of Korea, Japan, India, Thailand, Sri Lanka, Cambodia, Australia, the United States and Europe, will participate in seven sub-forums and several TV forums to discuss the propagation of Dharma teachings and the protection of Buddhist scriptures, and exchange ideas on the development of Buddhist education and the promotion of Buddhist charitable efforts..
A rare piece of the parietal bone of Sakyamuni, the founder of Buddhism, was flown to Hong Kong from east China's Jiangsu province on Wednesday for public worship. This is the first time the sacred remains is worshipped outside the Chinese mainland since it was unearthed in June 2010 in Jiangsu.