Dalai Lama encourages Chinese to seek solace in Buddhism
by ADRIAN CROFT, The Globe and Mail, May. 14, 2012
LONDON, UK -- Tibet's exiled Buddhist leader, the Dalai Lama, said Monday that China is beset by a moral crisis, widespread corruption and lawlessness, leading millions of Chinese to seek solace in Buddhism.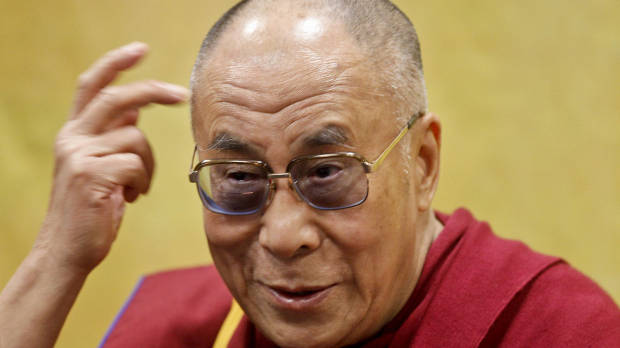 "Look at China now, the moral crisis, corruption – immense," he said, adding that China had "no proper rule of law."
A survey two years ago found that 200 million Chinese followed Buddhism, including many who followed Tibetan Buddhism, he added, and millions of young Chinese are showing an interest in spirituality.
"Tibetan Buddhist culture, I think, [is of] immense benefit to millions of Chinese who are really passing through a difficult period like that," said the Dalai Lama.
He spoke before a ceremony at St. Paul's Cathedral in London where he was awarded the $1.7 million Templeton prize for his work affirming the spiritual dimension of life. He also met with Prime Minister David Cameron and Deputy Prime Minister Nick Clegg, although not at Mr. Cameron's official Downing Street residence in a gesture to Chinese sensibilities.
China voiced "strong dissatisfaction" after Mr. Cameron's predecessor as prime minister, Gordon Brown, met the Dalai Lama, also away from Downing Street, in 2008.
China has ruled Tibet since 1950 when Communist troops occupied the country. The Dalai Lama escaped to live in exile in India after a failed uprising against Chinese rule.
The Dalai Lama told a British newspaper on Sunday he feared China might have plotted to kill him by training female agents with poison in their hair or scarves and then to seek his blessings or touch his hand. But he said on Monday he did not know if the allegation was true as he had no way of checking.
The Chinese Foreign Ministry said the Tibetan spiritual leader's allegations, reported in the London-based Sunday Telegraph newspaper, were not worth refuting, but added that he generally spreads false information.
"The Dalai always wears religious clothes while carrying out anti-China separatist activities in the global community, spreading false information and deceiving the public," spokesman Hong Lei said at a routine daily news briefing.
Asked what spiritual advice he would give to British people suffering from economic turmoil in the country, which is going through austerity and recession, the Dalai Lama said: "Please don't feel helpless or hopeless. ... Work hard."
The Dalai Lama, who won the Nobel peace prize in 1989, said he would donate $1.5 million of the Templeton prize money to support British charity Save the Children's work to combat malnutrition among children in India. The rest will go to scientific causes.