Shrine's IPO plan sparks public outcry
by He Wei, China Daily, July 3, 2012
Shanghai, China -- The latest effort to float on the capital market by Putuo Mountain, a Buddhist site, has renewed discussions over whether religious venues should turn into high-profile commercial entities through initial public offerings.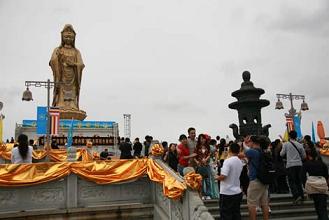 << Visitors gather near the Goddess of Mercy statue at Putuo Mountain, known as a holy Buddhist mountain, in Zhoushan, Zhejiang province. Putuo Mountain Tourism Development Co Ltd is gearing up to go public on the domestic capital market. [Photo / China Daily]
Putuo Mountain Tourism Development Co Ltd, a subsidiary company under the Putuo Mountain Scenic Management Committee, is gearing up to go public on the domestic capital market after prudent considerations and a year of preparation, a committee official told China Daily on Monday.
"We are set to raise around 750 million yuan ($118 million) to bolster the site's development," said Zhang Shaolei, who works for the committee, which is affiliated to the Zhoushan municipal government in East China's Zhejiang province.
The local authority is the driving force of the listing, Zhang added.
But he declined to reveal the timetable or comment on the revenue source or composition of the planned listed company.
Putuo Mountain Tourism Development Co Ltd was unavailable for comment.
The listing of companies linked to world-famous Chinese heritage sites is not new in the country's capital market.
For instance, Emei Shan Tourism Co Ltd, which is primarily engaged in the sales of admission tickets and the operation of tramways and hotels in Emei Mountain, another renowned Buddhist mountain, was listed in Shenzhen in 1997.
A more recent example is Famen Temple, another high-profile temple in Northwest China's Shaanxi province, which put the brakes on its IPO in May after preparing for a Hong Kong listing, according to the China Securities Journal.
The issues seemed to have touched the nerves of the government, which has criticized plans to promote tourism via temples, or temples banding together to go public for fundraising.
Xinhua News Agency quoted Liu Wei, an official with the State Administration for Religious Affairs, as saying last month that such plans violate the legitimate rights of religious circles, damage the image of religion and hurt the feelings of the majority of religious people.
"Looking at the rest of the world, no venues for religious activities have ever been packaged for listing before," he said.
Besides, the authorities are drafting documents to regulate policy boundaries that differentiate philanthropic endeavors from profit-driven activities, said Wang Zuo'an, head of the bureau.
Attempts to list religious sites have apparently crossed the line because it is overly money-minded to misuse public assets for profit-driven activities, said Liu Yuanchun, a researcher on Buddhist culture with Shanghai Academy of Social Sciences.
According to Article 24 of the Law of the People's Republic of China on the Protection of Cultural Relics, no State-owned sites protected for their historical and cultural value, which are established as museums or cultural relics preservation institutes or used as tourist sites, may be made assets for business operations, Liu said.
"A Buddhist temple is a public asset that belongs to the whole country, not the so-called temple managers or the local government," he said.
Reports about Shaolin Temple, famous for its kung fu monks in Henan province, planning a listing sparked a public outcry when they surfaced three years ago.
The temple has made huge profits in recent years from tourist visits, international stage shows, film productions and online stores.
Most local governments have an inherent desire to make temples more attractive and lucrative, as the tourism industry can help boost employment and become a vital source of income, said Ling Xiao, an IPO specialist at Zhong Yin Law Firm.
For example, Emei Shan Tourism Co received approximately 2.6 million visitors to Emei Mountain last year. Net profits rose 31.6 percent year-on-year to reach 145 million yuan, a majority of which came from admission and cable car fees.
But it is highly "inappropriate" for the companies, which rely solely on natural and religious resources, to seek funding on the stock market, as it contradicts current laws on public listing and religious regulations.
"According to the Regulations on Religious Affairs, the land legally used by a religious body or a site for religious activities is protected by law. Therefore it is impossible for the listed company to claim ownership," he said.