The Price of Faith: Chinese Buddhist Sites Plan IPOs
By CHENGCHENG JIANG, Time, September 27, 2012
China's four most sacred Buddhist mountains are hatching plans to list on the Shanghai stock exchange.
Beijing, China -- In China today, there's little that money can't buy — even when it comes to faith. Many of the country's most popular Buddhist sites are chock-full of cure-all tonics and overpriced incense.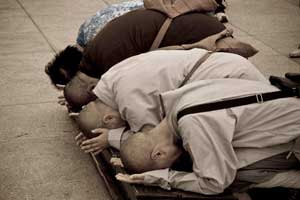 << TIM STELZER / GETTY IMAGES
Buddhists pray at Putuo Shan, Zhejiang Province, China.
For the most part, people seem happy, or at least willing, to oblige. That changed this summer, though, when it emerged that China's four most sacred Buddhist mountains were hatching plans to list on the Shanghai stock exchange.
In July, Mount Putuo Tourism Development Co. announced it would attempt to raise 7.5 billion yuan in a 2014 initial public offering. The company operates the tourist facilities at Putuo Shan, located on an island 20 miles (32 km) off Shanghai. Chinese state media quoted representatives of Wutai Shan in Shanxi province and Jiuhua Shan in Anhui province as saying they too had plans to raise funds on the capital markets. The fourth of China's sacred mountains, Emei Shan in Sichuan province, completed a public listing in Shenzhen in 1997, under the incredibly auspicious ticker symbol "888."
The IPO plans have not played well. The four mountains are revered by Chinese Buddhists as the earthly homes of four bodhisattvas — holy people who have attained enlightenment but have returned to earth to help others attain nirvana. Now, though, they have become symbols of commercial excess, with critics charging that they have crossed an invisible spiritual line. "Does Buddha Love Money Too?" asked a provincial newspaper in Hunan. "Buddhist Mountain IPOs Bring Shame," screamed a headline in the National Business Daily. "These temples are sacred places, they shouldn't be listed, it goes against the idea of religion," Jiang Zhaoyong, a well-known social commentator and former editor of a Hong Kong newspaper, says. "This is a spiritual thing — how can you measure that with money?"
The officials who run the sites disagree. They emphasize that hundreds of thousands of pilgrims and tourists visit the sites every year and argue that the listings are necessary to maintain the mountains and develop facilities for visitors. Indeed, in an interview with the Shanghai-based Dongfang Daily, the head of the Putuo Shan tourism office said that the funds raised through the IPO would be used to improve accommodation, transportation and restaurants on Putuo island and nearby areas.
The strategy is not entirely new. Perhaps the most infamous ecclesiastical entrepreneur in China is the abbot of Shaolin Temple, spiritual home of Zen Buddhism and site of the world-famous martial-arts school. Since Shi Yongxin, the youngest abbot in the history of the temple, took charge in 1999 he has launched several ambitious moneymaking ventures, including a Hollywood-style movie based, very loosely, on the history of the temple, a franchise operation to license the Shaolin name to other temples, and an online store selling, among other things, a book called The Secret of Shaolin Martial Arts. The book retails for $1,500.
Critics see such revenue-generating ventures as gateways to religious commercialism, even corruption. On a recent visit to Putuo Shan, Li Chengpeng, a top social commentator in China, was accosted by groups of fortune-telling monks looking for money. "I got up at 4 a.m. to visit the Puji Temple on the mountain and ran into a group of shaven-headed monks dressed in traditional cassocks who jumped on me, telling me 'You should do some good deeds to ensure a prosperous future,'" Li recalls. He says his offer of 200 yuan was rebuffed. "They demanded 400 [yuan] instead. Later I realized they are all cheats. Real monks are all in their morning classes at that hour. How could they be walking around and asking for alms?"
And it's not just a couple of crooks, Li contends. He sees religious IPOs as just another example of the national obsession with gaining wealth. "How can you tell when a generation is in trouble?" he asks. "It's when its religion, its priests, its temples and its churches are all for hiding their faith in order to achieve ulterior motives." Liu Wei, deputy director of the No. 1 Division at the State Administration for Religious Affairs, said at a press conference earlier this summer that temples should operate as nonprofit organizations, serving the religious needs of the public. "Looking at other countries in the world, there are no other examples of religious sites listing publicly," he said. "There have to be boundaries in the development of a market economy."
Nonetheless, business is booming. Emei Shan's share price has risen 17% since the start of the year, and analysts are feeling optimistic. "Since a rising of ticket price is very likely, and the Chengdu–Mt. Emei Express Railway is going to be put into operation in 2013, we are confident about [Emei Shan's] growth in 2013–2014," Haitong Securities' analyst Lin Zhouyong wrote in a recent report. It seems that despite the moral outrage, investors have faith.
Source: http://world.time.com/2012/09/27/the-price-of-faith-chinese-buddhist-sites-plan-ipos/#ixzz27xpsBfQd