Hong Kong: Call for visa crackdown on bogus Buddhist monks
South Morning China Post, 24 February, 2013
Police want immigration to crack down on bogus Buddhist monks working as beggars in the same way that they deal with prostitutes
Hong Kong, China -- Mainland beggars masquerading as Buddhist monks should be treated the same as prostitutes, and the immigration authorities should crack down on the practice, according to police.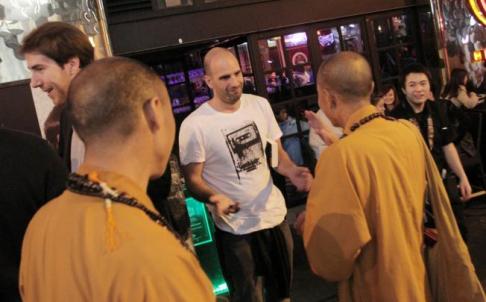 << Bogus monks at Lan Kwai Fong
One police source familiar with a rising trend of bogus Buddhist monks visiting Hong Kong as "professional beggars" said they may be violating their three-month visitor visas.
Over the past 12 months, the city had seen a major increase in the number of people clad in monks' robes and begging in Central, Wan Chai and Tsim Sha Tsui, the source said. The police arrest people for begging, particularly in Central. But unlike prostitutes, whose work is illegal because they enter Hong Kong on tourist visas, according to the Immigration Department, begging does not constitute working.
Stronger penalties would deter bogus monks from coming to the city, the source said, adding that the police wanted a change in immigration laws.
"If these bogus Buddhist monks come here specifically to beg on a three-month tourist visa, why isn't this a breach of their conditions of stay?
"If you come to Hong Kong as a mainland prostitute on a tourist visa, you will be arrested by police for breaching your conditions of stay. Why are these bogus monks not treated the same?"
On Friday night, one man dressed like a Buddhist monk in Lan Kwai Fong tried to sell a wooden beaded bracelet to the Sunday Morning Post. The bracelets - which he said could bring blessings - cost HK$100 each.
The sale of these bracelets constitutes working and is a clear breach of tourist visa laws.
But an Immigration Department spokesman said it was difficult to define whether begging should be classed as work. He noted, however, that it was the police's duty to tackle begging.
"In the case of mainland prostitutes, they breach the conditions of their stay by establishing a business here. It is a clear immigration issue," the spokesman said.
"But it is also clear in the police ordinance that they prosecute beggars. The police are the appropriate authority to enforce the law here. There is no loophole in the immigration law."
Entrepreneur Rory Hussey, whose bar Solas is on Wyndham Street, Central, called the bogus monks a "plague".
Hussey recalled how he went on holiday last year to Thailand and a group of bogus monks were on the same flight, dressed in civilian clothes. "I see them every night, so I recognised them on the plane straight away. A few of them even had girlfriends with them," he said.
In Tsim Sha Tsui, Mike Brown, bar manager of Ned Kelly's Last Stand in Ashley Road, said the impostors "would try to get away with anything".
"They'd blatantly walk in here and ask my customers for money," Brown said. "They're regularly annoying tourists all along Nathan Road."
At Delaney's in Luard Road, Wan Chai, general manager Clare Kirkman told how up to 12 monks could be patrolling up and down the streets.
"They work in pairs; while one begs, the other keeps a lookout for police," she said. "They're a nuisance but they are very well-organised."
Last weekend, authorities in the northern province of Shaanxi closed down two temples on a sacred Buddhist mountain and arrested six people after tourists complained of bogus monks deceiving them into donating money.