China arrests 5 Tibetans, mostly Buddhist monks, whom it accuses of inciting self-immolations
Associated Press, February 27, 2013
BEIJING, China -- Chinese police arrested five Tibetans, mostly Buddhist monks, whom they allege worked at the behest of foreign forces to persuade three people to set themselves on fire in anti-Beijing protests.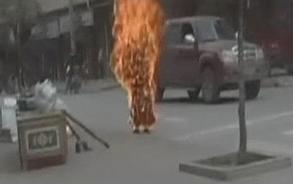 The arrests are the latest in an intensified crackdown on self-immolations by authorities in tightly controlled Tibetan areas and indicate that China's new leadership is responding to the protesters' calls for greater freedom by clamping down even harder.
In recent months, Tibetans have been arrested for encouraging others to self-immolate and have been handed sentences ranging from a few years in jail to death with a two-year reprieve, which is usually commuted to life imprisonment.
The five Tibetans were arrested by police in northwestern Gansu province and included a 21-year-old monk from neighboring Sichuan, the official Xinhua News Agency said Thursday. Three of the other Tibetans were identified as local monks.
Xinhua says the five are accused of recruiting three people and encouraging them to self-immolate in late October and November last year, saying their sacrifices would contribute to the Tibetan cause.
Police in Gansu province could not be reached for comment but the Xinhua article was posted on the provincial news website — usually an indication the news has been approved by propaganda officials.
Xinhua said the Tibetans were being instructed by the overseas Tibetan Youth Congress and journalists with the U.S.-government-funded broadcaster, Voice of America. Xinhua did not cite specific evidence for their involvement.
The Dharmsala, India-based Tibetan rights group has previously called such accusations by Chinese authorities "baseless" while VOA last month denied accusations by Chinese state television and a government newspaper that it encouraged the burnings.
More than 100 Tibetans have doused themselves in gasoline and set themselves alight since 2009, calling for Beijing to allow greater religious freedom and the return from exile of the Tibetan spiritual leader, the Dalai Lama. The majority of the burning protests took place last year, accelerating in November as China's ruling Communist Party held a pivotal leadership transition.
Authorities initially responded to the self-immolations by flooding Tibetan areas with security forces to seal them off. With those efforts doing little to stop or slow the protests, Beijing now appears to be seeking to weaken sympathy for them by portraying them as misguided and criminal.