Two more Buddhist Monks Self-Immolate in Tibet Protest
VOA News, April 24, 2013
Beijing, China -- Two Buddhist monks are reported dead in southwestern China, after setting themselves on fire at a monastery to protest Beijing's policies in Tibet.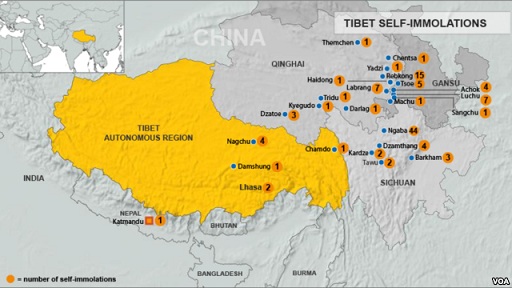 Tibet Immolations - updated April 25, 2013
Sources with contacts in the region tell VOA the 20-year-old and 23-year-old protesters were monks at the flashpoint Kirti monastery who had spent most of their lives at the facility -- home to more than 700 Buddhists.
More than 100 monks, nuns and their supporters have self-immolated in Tibet and Tibetan regions since February 2009, when Chinese authorities renewed their crackdown on protests against Chinese rule.
The Kirti monastery has been under Chinese guard since early 2011, when Beijing responded to a similar self-immolation by seizing more than 300 monks from the facility.
Beijing initially denied involvement in the disappearances, but later acknowledged that the monks were undergoing enforced "legal education" at undisclosed locations.
China has often accused Tibet's exiled spiritual leader, the Dalai Lama, and his followers of advocating for Tibetan secession. For his part, the Dalai Lama has repeatedly sought to assure Beijing that he is merely seeking dialogue aimed at establishing Tibetan autonomy.
Early this year, Beijing moved to criminalize acts of self-immolation, and to jail those accused of inciting such protests. The crackdown also was aimed at targeting individuals that authorities say have sent videos and photographs of such acts to contacts outside China.
Tibet's government-in-exile has operated from northern India since 1959, when the Dalai Lama fled Tibet after a failed uprising against Chinese rule.