Buddhists believe in outer space: Shaolin abbot
Xinhua, June 13, 2013
Henan, China -- As China's successful launch of its fifth manned spacecraft marks another step in realizing the country's space dream, Chinese monks regularly ponder how space is related to their own life.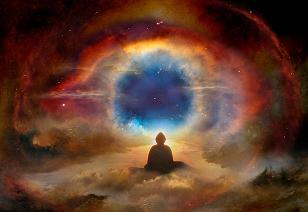 "Buddhism believes there are aliens. They not only exist, but there are many," said Shi Yongxin, abbot of the Shaolin Temple in central China's Henan Province.
Buddhists believe the existence of many different worlds and their end-results do not exclude other celestial bodies, said Shi in an exclusive interview with Xinhua.
According to the 48-year-old monk, those who have a good practice of Buddhism can go to other worlds, including outer space.
With a history of more than 1,500 years, the Shaolin Temple is famous for Buddhist teaching and Chinese martial arts, particularly Shaolin kungfu. It was enlisted as a world cultural heritage by UNESCO in 2010.
Shi, the temple's 30th abbot, is known as the "CEO of Shaolin" for his pursuit of commercial development. He became abbot in 1999.
Shi's business moves have sparked controversy, but he maintains the temple's core functions are to organize religious activities.
"The core soul of the Shaolin Temple has always been the cultivation of followers," stressed the abbot. The temple has more than 300 monks, half of whom were born after 1980.
Shi said they had not been to other celestial bodies and did not know whether Buddhist doctrines can be practiced on other planets.
Life is not eternal in the real world, but some other worlds are described to have eternal life with no pains nor troubles, said Shi, adding this is what Buddhists pursue.
The religious meditation of monks is a state of deep calm, active thinking and high concentration of the sober mind, according to studies conducted by Liu Tianjun, a professor of Beijing University of Chinese Medicine.
Shi, who is no stranger to modern technologies such as the mobile phone said brain waves of monks with good cultivation are different from those of ordinary people. This seems to indicate modern monks possess qualities of astronauts.