China sentences Buddhist monk of Tibet to 10 years in prison
by Yeshe Choesang, The Tibet Post International, 19 July 2013
Dharamshala, India -- A Tibetan monk from the restive Nyatso Zilkar Monastery has been sentenced to 10 years in prison in Dzatoe (Ch: Zaduo) town, Tridu (Ch: Chenduo) County in kyegudo (Chinese: Yushu, Tibetan Autonomous Prefecture, Qinghai Province), Kham region of eastern Tibet.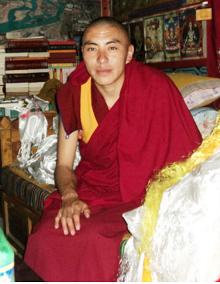 According to Dharamshala, India based Tibetan rights group- TCHRD, Tsultrim Kalsang, 25, received a 10-year sentence in prison on 'intentional homicide' charges, a charge used frequently by the Chinese authorities to crack down on self-immolation protests and to persecute critics of Chinese policy in Tibet.
On 12 July 2013, at around 8 am, an Intermediate People's Court in Xining sentenced Tsultrim Kalsang to 10 years in prison.
Local sources say Tsultrim Kalsang's charges are possibly related to the twin self-immolation protest carried out by two Tibetan youths in Dzatoe township on 30 June 2012. Both Ngawang Norphel, 22, and Tenzin Khedup, 24, died of their injuries.
Armed police first detained Tsultrim Kalsang on 1 September 2012 from his monastic residence. He was detained along with four other monks: Sonam Sherab, 41, Lobsang Jinpa, 31, Sonam Yignyen, 45, and Ngawang Monlam, 31. At the time, 60 vehicles full of armed police forces raided Nyatso Zilkar Monastery, searched the residences of the monks and confiscated some computers and CDs.
Since his detention, Tsultrim Kalsang spent about 10 months in uncertainty as his case was referred to various procuratorates who took time to draw up charges, sources with local contacts in Tridu said. After about a month of his detention, he was briefly returned to his monastery due to failing health. However, he was called for interrogation twice in Siling (Ch: Xining) city and was detained for four months at a stretch for further questioning.
zilkar-monastery-2013On 8 February 2012, coinciding with the solidarity prayers organised by exile Tibetans, local Tibetans in Tridu organised a non-violent protest calling for Tibetan freedom and the return of His Holiness the Dalai Lama to Tibet . Tsultrim Kalsang participated in that protest for which he and many other Tibetans were later detained, tortured and sentenced.
Lobsang Jinpa received five years in prison for writing the lyrics of a song sung by singer Lolo, who was also sentenced to six years beginning this year. Both Sonam Sherab and Sonam Yignyen were sent to a Re-education Through Labour (Ch: laojiao) camp for two years.
Tsultrim Kalsang was born 1988 in Nyatso Village in Tridu County. He is the son of Athub and Dokar Tso, and became a monk at the age of 10, in 1998. After finishing his studies at the Zilkar (White Dew) monastery, in 2004, he joined the great Sera monastic university in Lhasa, where he further engaged in Buddhist studies for some more years.
Among his fellow student-monks at the monastery, he had the reputation of being the brightest scholar. During the 2008 protests in Tibet, the Chinese police kept him in custody for around six months, and then he was forced to return to his hometown.
He therefore continued to study at his native monastery, and during his winter holidays, he volunteered to teach Tibetan Buddhism, history, grammar and composition to hundreds of Tibetan students in Dzatoe and Chumarleb (Ch: Qumalai) County.
In 2011, he was appointed as a lecturer of Tibetan language at Zilkar Monastery; one of his main achievements was that he composed many new Tibetan texts to be taught at the school.