Chinese university criticised again over new plans to give Buddhist abbot an honorary title
by He Huifeng , South China Morning Post, 12 December, 2014
Henan, China -- Plans by a Chinese university to give an honorary title to the abbot of a Buddhist temple have been criticised by social media users on the mainland.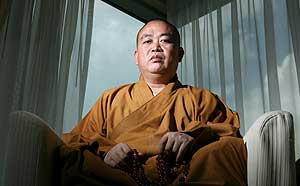 << Henan University was first criticised in 2009 when its sports institute gave China's controversial monk, Shi Yongxin (above), abbot of the Shaolin Temple, the title of honorary professor. Photo: SCMP Pictures
Henan University's school of philosophy and public administration plans to make Master Xinguang, abbot of the more than 1,300-year-old Daxiangguo Temple in Kaifeng city, Henan province, an honorary professor, the Beijing News reported.
The same university was criticised In June 2009, when its sports institute gave the same title to China's controversial monk, Shi Yongxin, abbot of the Shaolin Temple.
Some internet users are angry, claiming that it is wrong for Master Xinguang to be offered a prestigious position in addition to his role at the temple, the report said.
However, Zhang Jingdong, dean of the school, rejected the criticism yesterday, claiming the abbot would receive no pay or social benefits for taking on the role.
Zhang said the appointment would help to promote academic collaboration and cultural exchange between the school and the temple, the report said.
The abbot would teach students about religious affairs management and the history of the temple, he said. Students and teachers would carry out research at the temple, he added.
At the time of Shi's appointment as honorary professor, the monk - who told a Buddhist meeting last year that he believed in "lots of aliens" - said he hoped to contribute to the development of the institute and also martial arts in the country.
Shi has earned himself the nickname of "CEO monk" since he became abbot of the Shaolin Temple in 1999; many people have accused him of running the temple like a business.
During his leadership, the Shaolin Temple's name has become known around the world, and it has developed many business projects, such as kung fu performances, film production and online sales.
Daxiangguo Temple was first built in 555 AD, when it was known as "Xiangguo Temple". It was renamed Daxiangguo Temple in memory of Emperor Ruizong of Tang, who took the throne as Xiangwang, the king of Xiang, in 712 AD.
It was recognised as an official Royal Temple during the Song dynasty (960-1279), but was destroyed when the Yellow River flooded in the late Ming dynasty (1368-1644). It was rebuilt during the Qing dynasty (1644-1911).