Bizarre footage emerges of 150kg fugitive pig 'praying' before a Buddhist temple in Eastern China
By Nelson Groom, Daily Mail Australia, February 28th, 2015
Zhejiang, China -- Bizarre footage emerges of 150kg fugitive pig 'praying' before a Buddhist temple… and he only moved on after a group of monks chanted to him.It seems that humans aren't the only ones who need forgiveness.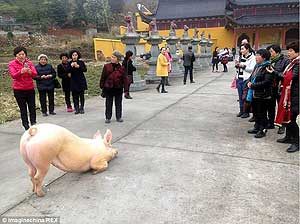 << Bizarre footage has surfaced of a fugitive pig grovelling in front of a temple in Wenzhou, Zhejiang province on Tuesday.
Pictures and video of the bowing boar, which had escaped from a nearby farm, have spread like wildfire on Chinese social media, sparking a flurry of debates over what the animal was doing, reports Sina.
Footage shows the animal kneeling on its forelimbs encircled by worshippers, as a Buddhist ceremony takes place inside the temple.
The saintly swine reportedly stayed put for hours, and only left the scene after a group of monks emerged from inside and chanted a Buddhist scripture towards it.
Discussions on the social media site WeiBo have seen some users propose the animal was seeking a pilgrimage for a Chinese New Year's blessing.
Others deduced the holy hog was merely seeking food or resting after an act of physical exertion.
Another web user offered a more scientific explanation: the pig was suffering from a disease concerning a deficiency in vitamin E, which can lead to an inability to stand up on all fours and kneel on one's front legs.
Incredible moment a pig is seen 'praying' outside a temple
It was later revealed the 150kg pig has escaped from a nearby farm with two other cohorts in search of food
Meanwhile, the owner of the pig later revealed it had escaped his hog pen on the morning on February 22, apparently in search of food.
Sadly, Mr Huang-who had raised the animal up to over 150 kilograms-ordered for the animal to be slaughtered upon being recaptured.
In a cruel twist of fate, Mr Huang Wenzhou Metropolis Daily he only learned of its internet stardom after the pig had been butchered, and he would not have done so otherwise.
'How bizarre! I've been raising pigs for so many years but I've never seen anything like this. I really shouldn't have killed it!' he said.
Huang was astonished by the viral images, and vowed that none of his pigs have been diagnosed with any diseases.
'This is really awkward. If the pigs were scared, they should have ran away instead of making that strange posture and let everyone watch.'
Over three thousand people reportedly attended the temple for the final day of confessions on Buddha repentance day.
It would seem this pitiful pig's prayers were left unanswered.