Dalai Lama's plan to end reincarnation blasphemous: China
PTI, Mar 9, 2015
BEIJING, China -- China on Monday termed as "blasphemous" the remarks of exiled Tibetan spiritual leader the Dalai Lama that the tradition of reincarnation should cease with his death, saying it will go against religion and history of Tibet.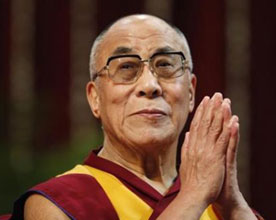 The reincarnation of the Dalai Lama should follow strict historical conventions and required religious rituals of the Tibetan Buddhism, said Padma Choling, a top official who heads the provincial legislature of the Tibet Autonomous Regional known as the People's Congress.
"It's not up to the Dalai Lama," Beijing-appointed Choling said, adding that the reincarnation should also be approved by the Chinese government.
"What he said is blasphemy against the Tibetan Buddhism," he was quoted as saying by state-run Xinhua news agency in one of china's strongest comments so far on the subject.
He was speaking at a panel discussion with other Tibetan lawmakers on the sidelines of the annual session of the Chinese legislature, the National People's Congress here.
Choling was referring to remarks made by the exiled spiritual leader last September saying that he may not have a successor, casting uncertainty on the choice of the next Dalai Lama after his death.
The 79-year-old head of Tibetan Buddhism, who fled to India in 1959, had said, "if a weak Dalai Lama comes along, then it will just disgrace the Dalai Lama."
His comments had come after concerns among his followers that China will push its choice of Dalai Lama to succeed him in order to regain control of the Tibetan Buddhism.
Choling, however, said that door for dialogue with the Dalai Lama is "always open."
But at the same time as to how the dialogue would be held and what to discuss totally depend on the Dalai Lama's attitude, he said.
The seat of the Dalai Lama is regarded the highest spiritual post of the Tibetan Buddhism.
The Panchen Lama, the second most influential post is held by Beijing appointed 25-year-old Gyaincain Norbu.
The move to end the Dalai Lama appointment is expected to upset the reincarnation system that has been honoured for hundreds of years in Tibet and destabilise the Buddhist region, the report said.
Despite being in exile for about 56 years the Dalai Lama remains most revered Buddhist spiritual head in Tibet.
Over 120 Tibetans committed self-immolations in the last few years demanding his return and opposing the Chinese rule in Tibet, according to overseas Tibetan groups.
Related article:
Dalai Lama concedes he may be the last
http://www.buddhistchannel.tv/index.php?id=70,12135,0,0,1,0