Senior Buddhist monk of Joney, Tibet released on bail, may face trial
by Yeshe Choesang, Tibet Post International, 13 April 2015
Dharamshala, India -- Sources coming out of Tibet say a senior Tibetan Buddhist monk and intellectual monk who was detained on eve of Tibet uprising anniversary has been released on "bail pending trial" on March 20, 2015.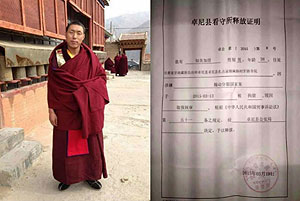 "The monk, identified as Jigme Gyatso Aka Jigme Gyaltsen, a 39-year-old senoir monk from Joney Dethang Khanpo Monastery in Joney County, Amdo Kanlho of north-eastern Tibet," Mr Sonam, a Tibetan living in Switzerland, told the Tibet Post International.
"The monk left his monastery on March 6, to visit Tashi Kyil Monastery in Labrang County for a long life prayer service for his spiritual teacher Dethang Khan Rinpoche," he said, adding: "Almost 12 days since, there have been no whereabouts of the monk."
"Ven Gyatso was secretly detained and taken away by Chinese police on suspicion of planning a demonstration against the government on 10th March uprising day. He was then accused of involvement in "activities to split the motherland."
"Chinese authorities further accused him of sharing images of the banned Tibetan flags and spreading of politically sensitive information with others from his mobile phone via social media using blogs and forums when he was arrested," he further added.
The accident happened while he was visiting the Labrang Tashi Kyil Monastery in Labrang County, as a senior monk and as a representative of his monastery.
"The Buddhist scholar, who told his colleagues and family that he was in a Chinese court after weeks-long disappearance," sources said.
He was appointed the Lama Ozin (the highest position next to the Abbot) of the Monastery in Joney County (Ch: Zhu?ní Xiàn, Gannan Tibetan Autonomous Prefecture, Gansu Province, China).
Gyatso has also spearheaded the local opposition to heightened security dramatically in Tibet with massive military deployment in the area in 2008.
After completing a pilgrimage to Lhasa in 2012, he was arrested and held in Taktse Detention Centre for three days where he refused to eat anything. Later he was handed over to a detention center in Lanzhou City, Gansu province.
Ven Gyatso was also a respected teacher in his township from 2010 to 2011, where he started teaching at Primary School/Elementary School. Tibetan language Initiative is being continued after receiving permission from the local authorities in 2014.
He is known also for zealously advocating the need to preserve Tibetan culture and Buddhism. All of these initiatives had earned him much respect and admiration from fellow Tibetans," the sources said.