Hong Kong opens £193m luxury Buddhist monastery to public
by Caroline Davies, The Standard, 16 April 2015
Brainchild of Li Ka-shing, Asia's richest person, Tsz Shan complex features several grand halls, gardens and 250ft statue of goddess Guan Yin
Hong Kong, China -- Watched over by a 76-metre-high bronze goddess of mercy, Hong Kong's newest Buddhist monastery – which features bulletproof VIP rooms – has opened to the public.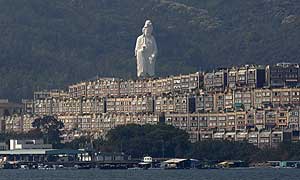 << Tsz Shan monastery's bronze-forged white statue, stands behind luxurious houses in the Taipo district of Hong Kong. Photograph: Bobby Yip/Reuters
The Tsz Shan monastery, built in Tang dynasty style, covers a vast 500,000 sq ft and cost £193m. It has been funded by Li Ka-shing, 86, a Hong Kong businessman and philanthropist, listed as the richest person in Asia – worth $31.9bn in the Bloomberg billionaires index last year.
One of its several grand halls – there is a Grand Buddha hall, a Universal hall, and a Great Vow hall – houses three 24-carat gold-plated Buddhist statues.
The 250ft statue overlooking the complex is the world's tallest Guan Yin (goddess of mercy) to be cast in bronze. It looks out across breathtaking views of Hong Kong's harbour and several islands.
Set against the backdrop of the Pat Sing mountains in Tai Po, it can accommodate 400-500 visitors a day – but reservations must be made in advance. Tour groups are banned, to preserve the serenity of the setting.
One of the three dormitories set aside for visiting monks has bulletproof windows. "We installed the bulletproof glass windows because we hoped there could be a place to protect our important guests such as the supreme patriarch of Thailand and other top monks," Walter Ngai Kai-shu, secretary general of the monastery, told reporters.
The development also houses a lecture hall, a bell tower and a drum tower, while the landscape gardens feature the bodhi tree, a sacred fig tree in Buddhism, the Buddhist pine, a meditation path and a "brilliance pond".
Visitors are prohibited from bringing joss sticks, meat, alcohol or other food offerings in order to be environmentally friendly.