Buddhists called to embrace the Internet
China Daily/Asia News Network, October 25th, 2015
Jiangsu, China -- Buddhist followers should embrace the Internet and spread the religion's philosophy online.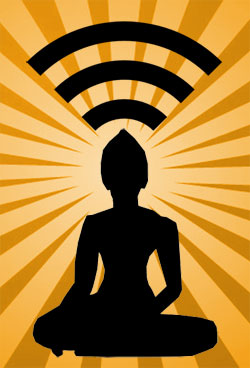 Venerable Master Zong Xing, vice-president of the Buddhist Association of China, called on Friday for a greater awareness when using "technology".
His comments came as more than 1,000 representatives from 52 countries converged in Wuxi, Jiangsu province for the Four World Buddhist Forum at Lingshan Mountain.
The forum, which starts on Saturday, will focus on the use of the Internet and new media to spread Buddhist teachings.
"From the ancient Buddhist teachings we can learn that Buddhism has the wisdom to employ the latest technology to spread its teaching and spirits," Zong said.
"Buddhism can also spread positive energy on the Internet and help people resist harmful information."
Venerable Master Xuecheng, president of the Buddhist Association of China, is one of the country's first Buddhist masters to write a blog and a microblog account.
He has more than 325,600 followers on Sina Weibo, which is the Chinese equivalent to Twitter. His online thoughts are also available in 11 languages.
About 1,800 Buddhist masters, practitioners and scholars will attend the forum. Among the representatives are Abbot Hsing Yun, one of Taiwan's most influential monks, and the 11th Panchen Lama Bainqen Erdini Qoigyijabu, a senior living Buddha in Tibetan Buddhism.
The keynote speech at the opening ceremony will be delivered by Sun Chunlan, head of the United Front Work Department of the Communist Party of China Central Committee.
The forum will provide a good opportunity for exchanging ideas between the mainland and Taiwan, Hong Kong and Macau, said Jiang Jianyong, deputy director of the China Religious Culture Communication Association.
"It will also fully display the charm of traditional Chinese culture and unite Buddhists all over the world in a common purpose," he said.
The first international Buddhism forum was initiated by Buddhists in Hong Kong and Macau in 2005. The forum was then held in the Chinese mainland in 2006, 2009 and Hong Kong in 2012.