Exclusive interview with Venerable Master Xuecheng: Buddhists need to advance with the times
by Han Bin, CCTV.com, Oct 25, 2015
Jiangsu, China -- The theme of this year's World Buddhist Forum is 'Exchange with Common Aspiration'. For two days, participants will discuss Buddhism's positive roles in resolving problems for human and social development.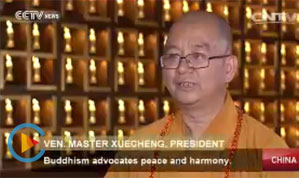 CCTV reporter has an exclusive interview with Venerable Master Xuecheng, President of the Buddhist Association of China.
Why is this year's theme "Exchange with Common Aspiration"?
Venerable Master Xuecheng said:"The forefathers say that if there is learning without exchange of ideas, knowledge will lead to narrow and short-sighted experiences. Whatever our school of belief or nationality, we need to exchange with trust, learn from others' strong points, and seek win-win development through cooperation."
"Buddhism has a history of over 2,000 years. It's very significant that Buddhist groups from different occupations, various ethnicities and schools of Buddhism, as well as countries and regions, come to share with each other."
"Buddhism stresses thinking big with great motivation to act. We have the determination; the key is to implement and achieve."
How can Buddhism help promote China's world influence?
"Buddhism advocates peace and harmony. In today's world, monks should not only study Buddhist teachings and classics. They should also have a firm grasp of modern cultural means and tools, so that the positive energy of Buddhism can be effectively and quickly spread to a wider range."
Facing the growing popularity of other religions like Christianity and Islam, how can Buddhism maintain its own vitality?
"Monks should not do as they did in the past, only practicing self-cultivation. Living at a time when all other religions and civilizations are actively developing, Buddhists should have a sense of urgency, be ready to deal with the impacts and challenges put forth by modern civilization. Against the backdrop of new media, Buddhists need to think big, to promote Buddhism and help others, as a key part of practicing their faith. The strong vitality of Buddhism relies on its teachings and philosophies, whose eternal value will survive time and space."